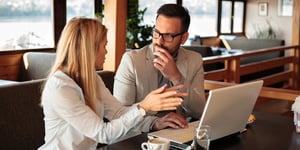 If you want to protect your restaurant, you need the right Restaurant Insurance coverage, but that doesn't mean you need to pay a higher price for that coverage.
Here are nine smart tips from the independent agents at American Insuring Group to help you lower your insurance costs.
Focus on Safety
Having a safety program in place, along with proper safety training and enforcement, will create a safer restaurant and fewer claims, and restaurants with fewer claims are rewarded with lower insurance premiums. Check out our blog for tips to help you create a safer restaurant – from fire prevention to knife safety.
Improve Security
Insurance is all about risk. Lower the risk – whatever that may be fire, injuries, or theft – and you'll lower your insurance costs. Here are a few security measures to consider:
Security alarm systems
Access control systems
Video surveillance cameras and video monitoring
Fire alarm systems
Fire sprinkler systems
Hire Wisely
Employees are one of your biggest assets and probably one of your biggest costs, but there are steps you can take to help lower insurance costs related to employees. For example, if an employee is going to drive one of your commercial vehicles, check their driving record before hiring. An employee with a bad driving record will increase your commercial auto insurance costs.
Also, make sure all of your employees are assigned the correct PCRB classification codes. These codes - based on the probability of an employee getting injured on the job - are used to calculate your Workers' Compensation premium. If an employee is assigned a classification code meant for someone in a more dangerous job, you'll end up paying more for WC Insurance. On the other hand, you don't want an employee assigned a classification code for a less dangerous job, or you could find yourself without coverage when you need it.
And finally, make sure that you promptly let your insurance company know if you hire a new employee, or an employee leaves your restaurant.
Pay Upfront
If you're making payments throughout the year on your insurance instead of paying the full balance upfront, you're probably paying more than you have to.
Increase Your Deductible
If you increase the amount of your deductible – the amount you need to pay if a claim is made before the insurance company kicks in - you can lower the cost of your premiums. However, you must ensure that you have money set aside to pay that higher deductible if you have to make a claim.
Carry the Right Coverage
You don't want to have coverage you don't need, but then again, you don't want to have gaps in your coverage that end up costing you more when you try to make a claim. The experienced agents at American Insurance Group specialize in Restaurant Insurance, and can help you determine the best coverage for your restaurant at the best price.
Bundle
Typically, when you buy anything in quantity, you pay less, and the same is true with insurance. You probably need several types of insurance – WC, liability, maybe commercial auto, etc. If you purchase several or all of your policies with one insurance company, you will often pay less.
Review Your Policies Annually
You have a lot on your plate, and insurance is probably not something you want to spend a lot of time on; however, Heraclitus, a Greek philosopher, said, "change is the only constant in life."
And that is certainly true in the restaurant industry – you may have purchased a new vehicle, decreased your staff, started serving alcohol or delivering food, or any number of things that could affect your insurance coverage and costs. Therefore, it's essential to make time to review your policies every year to make sure you have the right coverage at the best rate.
Work With an Independent Agent!
The independent agents at the American Insuring Group will check with many insurance carriers to ensure that you get the best price on quality insurance protection. Give us a call at (800) 947-1270 or (610) 775-3848 or connect with us online.