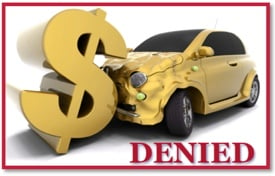 Picture this: a pizza delivery guy, a shuttle driver (sole-proprietor of the business), and an independent landscaping contractor collide into each other at the intersection of First and Main.
As they all get out of their vehicles to examine the damage, the delivery man asks, "Do you guys have commercial vehicle insurance?" Both drivers shake their heads no. "Do you?" asks the shuttle driver. The delivery man looks down at his feet, and says, "No, but I've been meaning to talk to my insurance agent about it."
Insurance Claim Denied
In this scenario, chances are that all three would hear the same answer from their insurance agent, "Sorry, but your personal vehicle insurance won't cover this accident."
If you own a fleet of vehicles and hire many drivers, you probably know you need commercial vehicle insurance. But what if you just use your personal vehicle for business occasionally, or it's just you driving your truck from job to job? Won't personal car insurance cover you in the event of an accident? It depends.
Like personal vehicle insurance, commercial vehicle insurance covers things such as liability, collision, comprehensive, medical payments, and uninsured motorist coverage. However, there may be a difference in eligibility, definitions, coverage, exclusions, and limits. Certain business usage and vehicle types can be excluded from personal policies. Some businesses need coverage only found in commercial car and truck insurance.
Commercial Vehicle Insurance Benefits
Commercial vehicle insurance generally includes higher liability coverage. Sometimes commercial insurance also insures the items (such as work equipment) within your vehicle; it may include rental reimbursement to help cover the cost to temporarily replace a commercial vehicle; and it may offer single-deductible options, which allow you to extend coverage to trailers or other specialized equipment you haul.
So, how do you know if you need commercial vehicle insurance or if personal vehicle insurance is enough? It depends on the nature of your business, how you use your vehicle, and your insurance company's policies. Here are a few questions you need to consider - if you answer yes to any of them, you may need commercial car insurance.
· Is your vehicle used to transport goods or people for a fee?
· Is your vehicle owned or leased by a partnership or corporation?
· Is your vehicle registered or titled to a business, corporation, partnership, or DBA?
· Do employees operate your vehicle?
· Is your vehicle a pickup, van, or utility vehicle with a gross weight exceeding 10,000 pounds or does it have a rated load capacity over 2,000 pounds?
· Is your vehicle equipped with snowplow equipment, cooking or catering equipment, bathrooms, altered suspensions, hydraulic lifts, or racing equipment?
· Is your vehicle equipped with a ladder rack or permanent toolbox that is used for your business?
Don't Take Chances on Insurance for Your Commercial Vehicle - Contact Us Today

Personal vehicle insurance provides enough coverage for some businesses; however, there are times when commercial vehicle insurance is required. If you don't want to be like the pizza delivery driver, the shuttle driver, or the independent landscaping contractor in our story, contact us for advice in making the right insurance decision at (800) 947-1270 or (610)775-3848. We'll help you obtain the right type and level of vehicle insurance for your business.