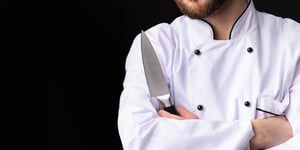 Certain types of Restaurant Insurance are designed to protect your business in the event of a lawsuit. Here's what you need to know about lawsuits and your insurance options.
How Likely is My Restaurant to Be Sued?
There's no doubt we live in a litigious society. According to the U.S. Financial Education Foundation (USFEF), it's estimated that over 40 million lawsuits are filed every year in the U.S. And small businesses aren't immune to lawsuits. According to the Small Business Administration (SBA), 36 to 53% of small businesses are sued every year. Let's take a moment to let that statistic sink in... Approximately half of all small businesses are sued in any given year.
And it costs those businesses big time. The SBA reports that lawsuits that go to trial can cost $3,000 to $150,000 to resolve. Thankfully, most cases are settled out of court; however, they still cost the business time, legal fees, business reputation, and sometimes a settlement to the plaintiff.
How to Protect Your Restaurant From Lawsuits
"Business owners who've had to pay legal damages say the costs nearly put them out of business," SCORE reports and advises, "Take the right steps to reduce the financial repercussions on both your personal and business finances should litigation become necessary. Incorporate your business in a way that shields your personal finances from any legal claim, and obtain the right business insurance coverage to protect your company's finances."
To determine what insurance coverage you need to protect your restaurant, you have to identify potential risks.
Here are four areas of liability you need to consider:
Commercial General Liability (CGL) Insurance helps protect your restaurant against customer injuries (for example, a customer slips and falls in your restaurant), customer property damage (a waiter spills soup on a customer's laptop), and advertising injuries, such as libel, slander, and copyright infringement. CGL typically covers legal fees, medical expenses, and judgments.
Every restaurant should carry General Liability Insurance, and it is required for most commercial leases. However, it is important to remember that General Liability Insurance does NOT cover employee injures. For those injuries, you need Workers' Compensation Insurance, which, in PA, is mandated for almost every employer.
Liquor Liability Insurance helps protect restaurants that serve alcohol. According to Pennsylvania's Dram Shop Law, "Any restaurant or licensed individual who gives alcohol to a visibly intoxicated person can be legally held responsible for injuries and damages that person might cause."
Here are some examples:
If you serve alcohol to someone who is visibly intoxicated and they get into a car accident, you can be held liable for any damages or injuries.
If you serve alcohol to someone who is visibly intoxicated, starts a fight, and injures someone, you can be held liable.
If you serve alcohol to someone who is visibly intoxicated, and they fall and are injured, you can be held liable.
Liquor Liability Insurance helps cover legal costs and settlements if you are sued under the PA Dram Shop Law.
Product Liability Insurance protects you from lawsuits that result from illnesses caused by the consumption of your food. The sad fact is that you can do everything possible to ensure food safety in your restaurant. Still, unless you have control over the entire supply chain, you could unwittingly end up serving contaminated food.
Commercial Vehicle Liability helps protect restaurants that use a vehicle for commercial use. Typically, a personal auto insurance policy will not cover damage caused while operating the vehicle for commercial use. That can mean a company-owned vehicle used for deliveries or even trips to the bank. If your delivery drivers use their own vehicle, you will also need non-owned vehicle coverage, and if you offer valet service, you'll need valet service insurance.
How to Lower Restaurant Insurance Costs
The agents at American Insuring Group have years of experience assisting restaurants with their insurance needs. They understand your business and know what questions to ask to ensure you have the right insurance coverage. And as independent agents, they check with multiple insurance companies to ensure you pay the lowest rate for that insurance coverage.
So give us a call at (800) 947-1270 or (610) 775-3848, or connect with us online and start saving today!