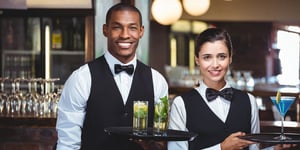 The best way to lower Restaurant Insurance Costs – particularly Workers' Comp and Commercial Liability – is to create a safer restaurant for everyone –employees, customers, vendors, etc.
According to the U.S. Department of Labor, there were 2.8 million nonfatal workplace injuries and illnesses reported in the U.S. in 2018. The total cost of those injuries was $170.8 billion, which included wage and productivity losses, medical expenses, administrative expenses, etc. However, it did not include the lower employee morale and productivity workplace injuries cause.
Here are eight restaurant safety tips to help lower costs.
1. Have your kitchen exhaust hood system degreased by a professional every six months.
According to the National Fire Protection Association, there were 7,410 structure fires in eating and drinking establishments reported to U.S. fire departments every year between 2010 and 2014. Cooking equipment was the cause of 61% of those fires. Grease build-up can cause fires that often spread into duct-work, exhaust systems, vents, and fans.
2. Have your fire suppression system checked by a professional every six months.
A properly working fire suppression system can extinguish flames in just a few seconds; thereby, preventing extensive and costly damage.
3. Ensure employees wear proper PPE.
This includes appropriate gloves (dishwashing, cut-resistant, and freezer), oven mitts, aprons, and anti-slip shoes.
4. Invest in anti-fatigue mats.
Anti-fatigue mats provide a cushion between feet and floors and relieve the strain caused by standing for long periods and help prevent slip-related injuries. In addition to minimizing strain and injuries, anti-fatigue mats can help boost employee morale and improve productivity.
5. Provide ongoing safety training for all employees.
OSHA states, "Regular training helps employees learn how to avoid hazards, keeps lines of communication open between you and your employees about hazards you may not be aware of, and lets employees know that you are serious about promoting sound safety policies and work practices in your restaurant."
Training should include identifying hazards; preventing burns, cuts, slips and falls, ergonomic hazards, and injuries from robberies and assaults: and dealing with emergencies and injuries.
6. Have your employees take alcohol awareness training classes.
If your restaurant serves alcohol, you should have all servers take alcohol awareness training classes. In Pennsylvania, your restaurant can be held liable for damage caused by a customer served or sold alcohol while visibly intoxicated. The right training can teach servers about responsible alcohol consumption and how to protect customers, employers, and themselves.
7. Train your employees on safe food handling.
Every year, foodborne disease causes 76 million illnesses and 5,000 deaths in the U.S., and the restaurant industry is responsible for a significant number of those illnesses and deaths.
An NCBI (National Center for Biotechnology Information) report found the cost of a single foodborne illness outbreak ranged from
$3,968 to $1.9 million for a fast-food restaurant,
$6,330 to $2.1 million for a fast-casual restaurant,
$8,030 to $2.2 million for a casual-dining restaurant, and
$8,273 to $2.6 million for a fine-dining restaurant
Those outbreaks ranged from a 5-person outbreak with no lost revenue, lawsuits, legal fees, or fines, to a 250-person outbreak, with significant lost revenue, lawsuits, legal fees, and fines.
The NCBI's conclusion is, "The cost of a single foodborne illness outbreak to a restaurant can be substantial and outweigh the typical costs of prevention and control measures."
8. Give American Insuring Group a Call Today!
As independent agents and specialists in restaurant insurance, the agents at the American Insuring Group will compare prices and coverage among multiple reputable insurance companies to ensure that you get the right insurance at the best price!
Give us a call today at (800) 947-1270 or (610) 775-3848 or connect with us online.