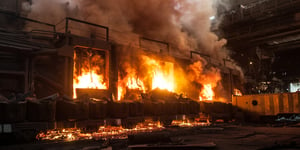 Do you think that Commercial Property Insurance has you covered? Let's go back to June 2019 for a moment.
Do you remember the fire and series of explosions at Philadelphia Energy Solutions? It released 5,239 pounds of deadly chemicals into the air and took more than 24 hours to extinguish. CNBC reported that it sent shock waves for miles and rained debris on nearby neighborhoods, and that "the blast was so powerful that a 38,000-pound barrel was launched 2,100 feet across the Schuylkill River, where it landed on the opposite bank."
It was determined that the likely cause of the fire was a faulty pipe. Surprisingly, there were no serious injuries or fatalities. Five workers reported minor injuries, and experts do not believe there will be any health impact from the release of chemicals.
This is a prime example of why businesses need both Commercial Property Insurance and Business Liability Insurance. One covers your property, and one covers lawsuits.
In the Philadelphia Energy Solution incident, Commercial Property Insurance would help Philadelphia Energy repair or replace its refining complex. If the explosion was determined to be Philadelphia Energy's fault, Business Liability Insurance would help cover any damage the explosion caused nearby neighbors or if the deadly chemicals were to have any negative effects on anyone.
According to the Insurance Journal, four out of ten businesses are likely to experience a property or general liability claim in the next ten years, and the average cost of a customer slip and fall claim is $20,000. Reputational harm claims cost an average of $50,000, and if a lawsuit is involved can average more than $75,000 for legal fees, settlements, and judgments. About 35% of all general liability claims result in a lawsuit.
What is Commercial Property Insurance?
Commercial Property Insurance helps repair or replace your physical assets, such as the building, furniture, computers, inventory, etc. if they are damaged by fire, hail, lightning, windstorms, vandalism, and explosions. Typically, earthquakes and floods are not covered unless they are added to your policy.
The cost of Commercial Property Insurance is determined by the value of your assets, your location, the construction of your building, your industry, and how close the nearest fire hydrant and fire station are.
What is Business Liability Insurance?
There are many types of Business (Commercial) Liability Insurance that cover different liability risks. Business Liability Insurance protects your business from liability claims against your business by a third party, such as customers, suppliers, vendors, and employees.
Types of Liability Insurance
General Liability Insurance helps cover third-party lawsuits, like customers, suppliers, and vendors, but not your employees. It typically helps cover third-party personal injuries, property damage, and advertising injury. For example, if a customer were to be injured after slipping and falling at your business, they could file a lawsuit against you. General Liability Insurance would help cover the costs of that lawsuit.
Workers' Compensation Insurance is required for most employers in Pennsylvania. It helps pay for medical costs and lost wages if an employee is injured on the job. It also reduces the risk of an employer being sued by an injured employee.
Professional Liability Insurance (A.k.a. Errors and Omissions Insurance) helps protect businesses against negligence and other claims made against them.
Product Liability Insurance helps cover lawsuits filed due to damages caused by a business's products.
An experienced insurance agent can help you determine the types of business liability insurance that is right for your business.
Here's How to Save on Commercial Property Insurance and Business Liability Insurance
Here are two ways to save on the cost of Commercial Property and Business Liability Insurance:
Bundle the two policies into a Business Owners Policy.
Work with an independent agent, like the agents at American Insuring Company, who can compare the cost of your coverage with several different companies.
Want to learn more about lowering your Commercial Insurance Costs? Give one of our independent agents a call today at (800) 947-1270 or (610) 775-3848 or connect with us online.