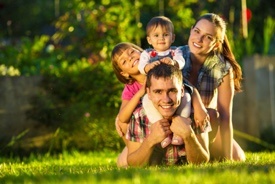 Young families have a lot to think about--having children, buying their first house, and getting themselves established in their careers top the list. Because of these, money is often not plentiful, and there isn't much time to look into the future and try to predict what surprises life might have in store, let alone to think about life insurance options.
If you are a spouse or partner in a young family, you may not have considered what would happen if you were to die unexpectedly. With life insurance in place, your family would be able to remain in their home and maintain their standard of living. It also gives your grieving survivor some time to make decisions without financial pressure.
The necessity for life insurance in young families may be apparent, but persistent misconceptions can keep those families from purchasing the coverage they need.
Here are three life insurance myths that can prevent your young family from receiving the protection it deserves:
Myth 1: Only the primary breadwinner needs life insurance.
If something happened to the breadwinner in your family, that paycheck would be missed. And the first myth addresses the importance of replacing the largest paycheck but without considering the value of the stay-at-home parent.
The costs of caring for your children, managing the household, and paying for all other domestic duties can be substantial. The parent who chooses to pass up a paying job and stay at home is providing an enormous service that has real value.No matter the size of the paycheck, your family counts on you and your income to maintain its quality of life, and either would be missed if something were to happen to you.
Myth 2: I can buy term insurance now, and if I still need protection at the end of the term, I can always renew the policy.
That is true if your policy is renewable, but not all policies are, and renewable premiums can be expensive. Why? When you come to the end of a 10 or 20-year term policy, you are ten or twenty years older, which guarantees a higher premium.
And think about this: If your policy isn't renewable, you must once again qualify for the insurance. If your health has changed over the years, you might be uninsurable. Even if you can qualify for it, you will be paying much more.
Term insurance is popular with many young families, and there's a good reason for it. The policies give the most coverage at the lowest cost. And it comes at a time when money is tight, and the need for coverage is highest.
But term insurance is just that—coverage for a relatively short time. It's an excellent policy to provide for any needs that may disappear over time, including a mortgage or college expenses, but there are other plans designed to meet your longer-term needs.
Myth 3: Term insurance is sufficient.
Term life insurance has its place in your overall financial planning, and it certainly makes sense for young families. Permanent life insurance, on the other hand, provides a death benefit along with other features such as lifelong protection and tax-advantaged cash accumulation within the policy.
You can access the cash value in your plan to pay for a business opportunity, your child's education, or an emergency. Just remember that any funds you withdraw from the policy will reduce the death benefit and cash value if you don't repay them.
Although permanent life insurance is more expensive than term insurance in the short term, there are long-term cost advantages to permanent coverage. So, you might consider buying a term policy with a large face amount, which gives you the immediate protection you need, and combine it with a smaller permanent policy.
We'll Help You Find the Best Life Insurance at the Best Price

To learn more about your life insurance options at any age, contact American Insuring Group online or call us at (800) 947-1270 or (610) 775-3848. Our team of independent life insurance agents will help you find the best policy from among competing insurance carriers. Call or click today to get started.