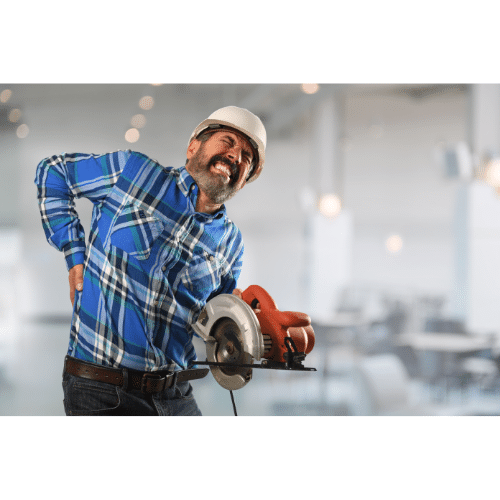 Back injuries account for nearly 20% of all injuries and illnesses in the workplace, according to the Center for Disease Control & Prevention (CDC), and those injuries are costing businesses billions of dollars in lost productivity, Workers' Compensation Insurance costs, and more.
What Causes Back Injuries?
Back Injuries can happen in an instant or develop over time. Here are five common risks for back injuries:
Repetitive Motion
Poor Physical Condition
Incorrect Lifting
Poor Posture
Inactivity
How to Minimize the Risk of Back Injuries
Most back injuries are preventable. Here are five tips to minimize the risk of back injuries.
Modify Repetitive Tasks
Repetitive tasks or maintaining the same posture for long periods can strain your body, including your back. There's even a name for it – Repetitive Strain Injury (RSI). If you have a task that you need to do repeatedly, try to modify that task to alleviate some of the strain on your back.
For example, lift-assist tools can help if you need to lift on the job repeatedly, and blue-tooth headphones can help if you are constantly on the phone.
Lift Properly
Improper lifting can cause back injuries. Before lifting anything, determine the size and weight of the load and get assistance or use a mechanical lifting device if needed. Here are five proper lifting tips from Princeton University:
Warm up
Stand close to load
Bend your knees
Grip the load
Lower load in reverse
Notice Your Posture
Poor posture puts unnecessary stress on muscles, joints, and ligaments in different parts of the body. Even if you work in an office and sit behind a desk most of the time, bad posture can cause back injuries. To maintain good posture throughout the day, make sure your workstation is set up correctly and that you take regular breaks.
Here are six tips from Albert Einstein College of Medicine:
Adjust your chair so that your thighs are horizontal with the floor, your feet are flat, and the backrest supports your lower back. If your feet do not rest comfortably on the floor, use a footrest.
Adjust your keyboard or chair height so that, while you're typing, your elbows are at a 90-degree angle, and your wrists are straight.
Adjust your computer monitor so that the top of the screen is at your eye level.
Use a document holder so your papers can be kept at the same level as your computer monitor.
Make motions such as typing and stapling with the least amount of force possible.
Adjust the window blinds or lighting, so there is no glare on the computer screen.
Stay Healthy
A healthy body performs better, is less likely to be injured, and heals more quickly; therefore, keeping healthy can help you avoid and minimize the severity and recovery time of back injuries. Healthy habits include…
Staying hydrated. According to the Mayo Clinic, men should drink about 15.5 cups of water per day and women should drink about 11.5 cups of water per day.
Staying active by getting at least 150 minutes of moderate or 75 minutes of vigorous aerobic activity a week.
Eating healthy by focusing on fruits, vegetables, whole grains, and low-fat milk; including a variety of protein foods; limiting saturated fats, trans fats, cholesterol, salt, and sugar consumption; and staying within your daily calorie needs.
Listen to Your Body
If you listen, your body can tell you a lot and help you prevent a multitude of injuries, including back injuries. If you feel pain or tenderness, stiffness, difficulty standing, muscle spasms, bruising, etc., your body is telling you that something isn't right. If you continue to try to "work through the pain," you may be causing more injury.
Lower Workers' Compensation Insurance Costs
Minimizing the risk of back injuries is one step toward lowering Workers' Compensation costs. Another step is working with one of the experienced independent agents at American Insuring Group who specialize in WC insurance.
So give us a call today at (800) 947-1270 or (610) 775-3848, or connect with us online.