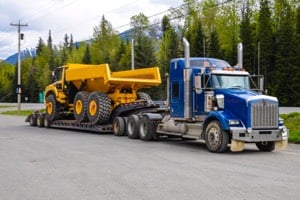 If you are one of the 12 million drivers registered to operate a CMV (Commercial Motor Vehicle) in the U.S., you play a big part in keeping our highways safe – even more so than drivers of passenger vehicles.
In 2015, large trucks traveled 279.8 billion miles in the U.S. 11.9% of fatal motor vehicle accidents involved at least one large truck or bus and 7.6% of nonfatal accidents included at least one large truck or bus. The rate for fatal work zone crashes is even higher - 30%.
Taking measures to drive more safely not only makes our roads safer for everyone, but it can also help you save on commercial vehicle insurance.
What Makes Trucks More Dangerous?
The sheer mass and size of a large truck increase the likelihood of more severe damage and injuries than a passenger vehicle. The legal weight limit for a truck is 80,000 pounds (about 40 tons) – without any oversize or overweight permits. The average automobile is about two tons, and a bicycle is .75 tons.
You don't have to be a mathematician to figure out that a 40-ton eighteen wheeler crashing into a passenger vehicle is probably going to cause a lot more damage than two passenger vehicles crashing into each other. In fact, seven out of ten people killed in vehicle accidents involving large trucks are occupants of the passenger vehicle.
In addition to the impact of a truck's size, large trucks can also create significantly stronger wind gusts that can push smaller cars around. Taller vehicles like CMVs have a higher center of gravity, which can cause them to roll over more easily. And the higher ground clearance of many commercial vehicles can push or pull smaller cars under them during an accident.
Large trucks also have operating limitations that result in substantial blind spots, less maneuverability, and increased stopping distances.
Blind Spots
Large trucks create huge blind spots for truck drivers that limit visibility that many car drivers aren't aware of. One study found inadequate surveillance of the truck driver caused 14% of large truck accidents.
These blind spots are located in sections of the lanes on both sides of the truck. The right side is the most dangerous blind spot because it extends further back. Other blind spots include about 30 feet behind the truck – large trucks don't have rear-view mirrors, so drivers need to rely on side mirrors - and about 20 feet in front of trucks.
It is true that 80% of accidents that involve a truck are caused by the driver of the passenger vehicle – not the truck driver. Practicing defensive driving is the best way to avoid accidents caused by other drivers. That means being vigilant about watching your surroundings. You can do this by keeping your distance, maintaining a safe speed, staying focused and alert, and keeping your eye on the road.
Limited Maneuverability
The size and length of trucks can make taking sharp turns more challenging. When turning right, watch for vehicles on both sides before making the turn to avoid the "right turn squeeze." Take extra care when turning in tight spaces such as truck stops and work zones.
Work zones are particularly hazardous for truck drivers. There are often lane shifts or uneven road surfaces. You may need to make a quick stop, and you have to watch for moving workers, equipment, and confused car drivers.
So be even more vigilant in work zones. Slow down, leave extra space between you and the vehicle in front of you, look ahead for changing traffic patterns, be alert to vehicles entering your blind spots, watch for road workers and flag crews, and obey all work zone signs and signals.
Increased Stopping Distance
A truck needs more stopping time than a passenger vehicle especially when it's carrying a heavy load and when road conditions are slick with snow, ice, or rain. A fully loaded truck traveling at highway speeds needs a distance of almost two football fields to stop – and that's when the roads are in good condition.
Being aware of the blind spots, limited maneuverability, and increased stopping distances large trucks cause is the first step to safer driving and to protecting your employees and your business. The right commercial truck insurance adds another layer of essential protection.
Need Truck Insurance You Can Afford? Contact Us Today
Give the experienced agents at American Insuring Group at (800) 947-1270 or (610) 775-3848 a call, or contact us online. As insurance brokers, they can compare the prices of several insurance companies to ensure that you're getting the best protection at the best rate. For more information on truck insurance, click below.
CLICK TO SAVE ON TRUCK INSURANCE