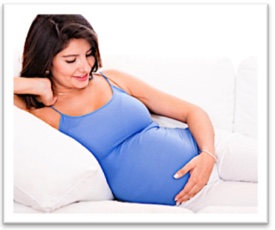 Did you recently get married? Have you started thinking about having children? Are you already pregnant? Congratulations! This is a very exciting time in your life!
Next question…Have you thought about life insurance? Your life insurance needs will probably change significantly once your baby is born. The task of regular feedings and diaper changes will probably have you struggling to sneak in some shut-eye, and I can pretty much guarantee that preparing for the "what-ifs" in life will move to the bottom of your to-do list.
Whether you become a stay-at-home mom or work outside the home, it's important that you plan for the "what if" something were to happen to you. Life insurance helps ensure that your child can be properly cared for and that your family doesn't face financial hardship.
Can Pregnancy Affect Life Insurance?
Sounds like a crazy question, right? Pregnancy isn't a disease; it's the way children have been brought into the world since the beginning of time.
In the vast majority of cases, pregnancy has no effect what-so-ever on life insurance rates. If it's early in your pregnancy and there are no medical complications, your life insurance should be unaffected.
However, on rare occasions, pregnancy can affect your policy rate and/or your ability to obtain life insurance. If you're farther along and there are medical issues, some insurance companies may force you to wait until after your child is born to purchase life insurance.
Life Insurance Risk Factors During Pregnancy
The most common medical issue for pregnant women is gestational diabetes. Between 3 and 10 % of all pregnant women experience gestational diabetes at some point during their pregnancy. While this issue usually disappears upon the birth of the baby, there are instances when it can lead to other forms of diabetes, such as type I or type II diabetes.
Another risk is if the mother gains excessive weight during her pregnancy. This can cause preeclampsia, which can affect the liver, kidney, and even brain function. If she is unable to lose the excessive weight after childbirth, she can develop other conditions, such as high blood pressure, that can also affect insurance premiums.
In some cases it makes sense to wait to apply for life insurance until well after the delivery so the new mom has time to deal with the after effects of pregnancy. The lower premium rates will allow her to save money and/or enable her to buy a larger amount of life insurance.
This is fine if you already have a life insurance policy in place. If not, you could have inadequate coverage, leaving your family vulnerable to financial hardship. Therefore, we recommend that you look at your life insurance needs prior to planning for a family.
Term vs Permanent Life Insurance
Term life insurance costs less than permanent, making it more affordable for young families who may not have a lot of disposable income, but if you live beyond the period of the policy, you and your beneficiaries receive nothing. Permanent insurance (often referred to as whole life insurance) is more expensive initially, but it will provide lifelong coverage and a cash accumulation feature, which can help supplement your retirement plan.
Sometimes, the best solution is a combination of both term and permanent life insurance. The term policy can give you extra coverage during the years when the children are at home and the permanent policy can provide life-long coverage.
How Much Life Insurance Should I Purchase?
Both working and stay-at-home moms need life insurance. While a stay-at-home mom may not contribute an income, it would be expensive to replace all the things she does if something were to happen to her. If the income that a working mother contributes is important to the family financially, she needs to replace that income if something were to happen to her.
Don't be tricked into thinking the group insurance you have through your employer is adequate coverage. Usually, that coverage is given in a lump sum of money – maybe $50,000. That may sound like a lot, but think about how long that money would actually last. Plus, if you leave that employer, the policy is normally terminated.
Estimating Your Life Insurance Needs
For an estimate of your life insurance needs, check out this life insurance calculator.

Then contact American Insuring Group at (800) 947-1270 or (610) 775-3848. We're independent life insurance agents offering a variety of life insurance plans from many competing companies, so we're free to find you the best deal on the right life insurance protection to meet your specific needs. Contact us today.