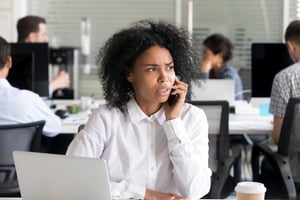 Filing a Workers' Compensation Insurance claim is probably not one of your favorite things to do, but it's essential when a worker is injured on the job. If you want to make sure the Workers' Comp claim gets processed as quickly as possible - saving you both time and money - don't annoy your adjuster.
Adjusters are busy too – juggling 150-200 claims every day - and would like to see your claims processed as quickly and smoothly as possible. The best way to make that happen is to provide them with what they need in a timely manner to make their job easier and avoid annoying them.
Here are Four Things That Are Frequent Annoyances to Workers' Compensation Adjusters:
Not completing the Injury Form Correctly
The first step in any WC claim is completing and submitting the injury form. All of the information on that form – social security number, birth date, type of injury, etc. - is relevant to the adjuster and helps them process the claim more quickly. If you leave a field blank, they have to interrupt what they're doing to contact you for the information.
If you want your claim processed more quickly, gather the information in advance and fill in every field on the form accurately. Make sure names are spelled correctly, the date of the injury is correct, etc. This first report is vitally important, so double check everything before submitting it, and remember if you leave a field blank, someone else could fill it in with information you don't like.
Not Reporting a Claim Right Away
As soon as an injury occurs, start the process of gathering information to submit the claim as quickly as possible. Submitting a claim days after an injury occurs could force an adjuster to rush through the process and make mistakes. The quicker you can get it in, the more thorough the adjuster's investigation will be, which results in more accurate and ethical decisions regarding the claim without penalties, leakage, or delays.
Also, adjusters will prioritize claims that include lost wages, so let them know upfront if that applies to your claim. They understand that any delay in the claim is another day of potential wage loss. Providing this information up front allows them to determine if the claim is compensable and get your employee back to work on light-duty as quickly as possible, which helps keep your claim costs down.
Not Knowing the Details of the Injury
Immediately after an injury occurs, begin gathering facts and witness statements to understand exactly what happened. Send all the information you gather to the adjuster and be prepared to answer questions about the incident if they contact you.
Witness statements can be crucial in determining the validity of a claim, and adjusters will compare those statements with the employee's recount of the incident. If they see any discrepancies, they will research further, which could prevent payment on a false claim; thereby, minimizing leakage and helping to keep your WC costs down.
Not Working With Them
Adjusters are experts regarding the compensability of WC claims. They have been trained and certified to make WC decisions, but you are the expert regarding your employees and the type of work they do. Your input is crucial to ensuring an accurate investigation.
When an adjuster emails or leaves you a voice mail with a question, reply as quickly as possible. Also send anything you receive related to the claim to your adjuster as quickly as possible including bills and medical information.
If you want to save time and money and help ensure your Workers' Compensation claims are processed as quickly and accurately as possible, keep these four things that annoy WC adjusters in mind.
Want to Learn More About Saving on Workers' Compensation Costs?
Although Workers' Compensation Insurance is required for most businesses with employees, that doesn't mean you can't get more bang for your buck! Start saving by giving the Workers' Comp experts at American Insuring Group a call at (800) 947-1270 or (610) 775-3848 or connect with us online.