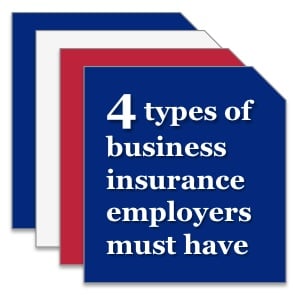 You're about to become an employer. Maybe you've been in business for a while, but now you're ready to hire your first employee. You're excited; this means your business is growing. Or, maybe you're just starting a business and you need employees to help run that business.
Either way, being an employer comes with many responsibilities, including ensuring that you purchase the right business insurance. You may be asking yourself, "What insurance is required by law and what is optional? What's in the best interest of both my business and my employees?"
There are four primary types of insurance every employer should take a look at – Workers Compensation Insurance, Unemployment Insurance Tax, Disability Insurance, and Health Insurance.
Workers' Compensation Insurance
Workers Compensation Insurance coverage ensures medical and wage-loss benefits to employees who are injured on the job. Plus, it helps protect employers against lawsuits filed by injured workers. Worker's Comp insurance requirements vary by state. In Pennsylvania, if you employ one or more employees - whether they're part-time or full-time (including family members) workers' compensation insurance coverage is mandatory.
If you are a sole proprietor, Workers' compensation insurance is not required by law, which can save you money; however, if you're ever injured on the job, workers' compensation insurance can help pay medical bills and supplement lost wages until you're able to go back to work.
Click here for information about workers compensation insurance requirements in other states.
Unemployment Insurance Tax
Unemployment Insurance (UI) is a joint state and federal program financed through federal and state employer payroll taxes. It provides temporary payments to individuals who are unemployed through no fault of their own. Each state has its own unemployment insurance program, which includes additional eligibility requirements, but they all follow guidelines established by the federal government.
Most employers must pay federal employer payroll taxes if they pay employee wages of $1,500, or more, in a quarter or if they have at least one employee during 20 weeks in a calendar year. Most employers are also required to pay state unemployment taxes. In Pennsylvania, all employers providing employment to one or more workers must register Form PA-100 with the Office of UC Tax Services.
Employment that is not covered under the UC law includes the following:
An individual employed by his or her son, daughter or spouse
A child under the age of 18 who is employed by his or her parent
A student in the employ of an organized camp that did not operate more than seven months in the preceding calendar year
Disability Insurance
Some states require that employers provide partial wage replacement insurance coverage to their eligible employees for non-work related sickness or injury. Currently, if your employees are located in any of the following states, you are required to purchase disability insurance:
California
Hawaii
New Jersey
New York
Puerto Rico
Rhode Island
In Pennsylvania, there are two types of disability insurance available if you decide to purchase it for your employees: short-term and long-term.
Again, if you are a sole proprietor, Disability Insurance is not required in Pennsylvania; however, if your family relies on your income, you may want to consider disability insurance for yourself to help pay medical bills and supplement lost wages if you become sick or injured.
Health Insurance
If you have more than 50 employees you are required to provide health insurance benefits to your full-time employees. If you have more than 50 employees and don't offer health benefits, you may be subject to a penalty call the shared responsibility payment. 96% of employers in Pennsylvania are exempt from the shared responsibility requirement.
Contact Us for All Your Business Insurance Needs
If you're an employer, contact American Insuring Group at (800) 947-1270 or (610) 775-3848 for more information about required and recommended business insurance, including health insurance, disability insurance, workers compensation insurance, or any other insurance your business may need. We've been helping businesses like yours acquire affordable, high-quality insurance for over 25 years.