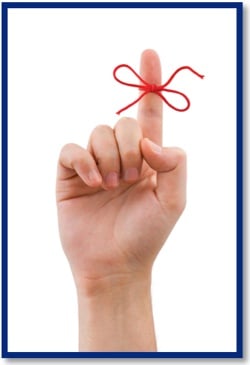 Be honest! Did you make any New Year's resolutions this year? If you did, you weren't alone. According to Statistic Brain, 45% of Americans "usually" make New Year's resolutions, and according to Constant Contact®, 53% make business-related resolutions.
Statistic Brain found that losing weight is the number one New Year's resolution for 2014 – no surprise there. And number two? The second most popular resolution for 2014 is – drum roll please - getting organized. Now if losing weight is on your list, there are many other organizations more suited to helping you than an insurance company (unless you want to know how weight could possibly affect your life insurance premiums). However, a good insurance agent can help get your business organized.
Getting organized isn't just about "A place for everything, everything in its place," as Benjamin Franklin said. It's also about having everything you need so your business can run smoothly and profitably. The right business insurance can help your business do just that - and protect it by minimizing financial risks associated with unexpected events.
Commercial Liability Insurance
First, you should consider liability insurance to protect your company's assets in the event that someone gets hurt on your property or you (or one of your employees) cause property damage or injury. Even if you doubt you'll ever face a claim, we live in a litigious society; purchasing liability insurance is a wise and affordable investment. There are a wide variety of commercial liability insurance options such as general liability insurance, product liability insurance, and error and omission insurance.
Commercial Property Insurance
Commercial Property Insurance is another insurance to consider. It covers everything related to the loss or damage of company property due to events such as fire, windstorm and hail, smoke damage, vandalism, theft, and more. "Property" may include lost income, business interruption, and company papers, as well as equipment and buildings.
Commercial Vehicle Insurance
If you use a vehicle – whether you own it or not – for any purpose other than driving to and from work, you should check your existing insurance policy to see if you need a commercial vehicle policy. Standard vehicle insurance coverage includes bodily injury and property damage liability, personal injury protection, and physical damage to your vehicle including comprehensive and collision coverage.
Worker's Compensation Insurance
Worker's Compensation Insurance is mandatory in most states (including Pennsylvania), and covers employees for work-related injuries. A typical "workers comp" insurance policy pays lost wages and medical expenses incurred due to a work-related accident and protects the employer against accident-related lawsuits.
Business Umbrella Insurance
Finally, umbrella liability insurance is a type of commercial insurance that covers a small business for liability claims that exceed the underlying limits of liability coverage. Umbrella policies are a type of commercial insurance that adds an extra layer of public liability insurance protection.
Now is a Great Time to Review Your Business Insurance Needs
Whether "getting organized" is on your list of 2014 New Year's resolutions or not, now is a great time to review your insurance policies to ensure that you have the right coverage to protect your business and allow it to run smoothly. AIG would be very happy to help you with this resolution. Contact us at (800) 947-1270 or (610) 775-3848 to arrange a policy evaluation. Then you can sit back and enjoy your well-ordered office space, knowing that it's protected.
Unfortunately, you'll have to call someone else if you want help losing weight!