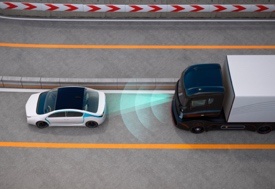 Do you ever wonder how trucking insurance rates may be affected by driverless cars and trucks? Will there be less accidents due to driver error, or more accidents due to compurter error?
Imagine driving along the highway and glancing into the cab of an 18-wheeler as you pass it; you see the "driver" sitting back, relaxing, and looking down at his iPad, drinking a cup of coffee, and completely ignoring the road and the cars around him. Don't panic! Hopefully, you've just witnessed a driverless (Aka autonomous) truck. No, this is not a scene from the Jetsons. It is a very real possibility.


The First Licensed Self Driving Semi Truck
In 2015, Daimler introduced the world's first licensed self-driving semi called the Freightliner Inspiration. "The Freightliner Inspiration is a limited take on autonomy. The system will kick in only once the truck's on the highway and up to speed, and then it will maintain a safe distance from other vehicles and stay in its lane. It won't change lanes to pass slower vehicles on its own. If the truck encounters a situation it can't confidently handle, like heavy snow or faded lane lines, it will alert the human that it's time for him to take over," according to Wired. While it's true that the world isn't quite ready for an autonomous truck, it is not outside the realm of possibility within our lifetime.


Truck Driver Shortages
Nearly 70 percent of the country's freight is moved by truck, according to the American Trucking Association (ATA), and that number is expected to increase by 24 percent by 2022. As the amount of freight being shipped by trucks increases, the number of drivers continues to decrease. Currently, there is a shortage of nearly 48,000 truck drivers, which experts say may increase to almost 240,000 by 2023. So you can see why trucking companies may be intrigued by the idea of driverless vehicles.


Trucking Insurance Company Concerns
Commercial trucking insurance companies are also keeping their eye on driverless trucks. In the US, 330,000 large trucks were involved in crashes that killed nearly 4,000 people (most were in passenger cars) in 2012. According to the National Highway Traffic Safety Administration, 90% of accidents are caused by driver error. Eliminate risk factors like drunk driving, distracted driving, or falling asleep at the wheel, and claims payouts and premiums could go down drastically – at least in the short term.

In the long-term, there are still issues that vehicle manufacturers, fleet owners, and insurers need to address. For example, a computer-operated driverless truck would be susceptible to hackers, which could include terrorists or others with malicious intent. What if an autonomous truck is involved in an accident? Whose fault is it? The truck owner or the vehicle manufacturer or the driver (if there is one in the truck)? Determining who is liable for an accident could become difficult, especially in the event of product recalls or faulty equipment.
When Will Driverless Trucks Become the Norm?
The truth is: the U.S. isn't quite ready for a driverless truck. First, there's a ten-year testing phase. Daimler has said, "It won't be market-ready for a decade, and could never replace human drivers."

But more importantly, U.S. infrastructure isn't ready for it. According to the American Society of Civil Engineers, the US infrastructure grade for 2013 was a D+. Roads received a D. The government would need to invest millions of dollars to upgrade the infrastructure of three million miles of road to support driverless vehicles. According to Economic Analysis of Transportation US roads have poor markings and uneven signage, traffic lights that are aligned vertically, horizontally or "doghouse" style in two columns, and pavement markings with different degrees of reflectivity. These are issues that can make it difficult for driverless technology to adapt.
Economic Impact
There is also the issue of industries that rely on truckers' business such as highway motels, gas stations, diners, and truck stops. Remove the drivers, and you remove their customers. The U.S. economy could be significantly affected by the replacement of drivers with machines. It will be interesting to watch how far and how quickly technology will change the trucking industry. In particular driverless trucks.
Driverless or Not, We Have You Covered! Contact Us for the Best Truck Insurance Rates.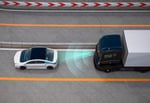 Regardless of where the trucking industry goes in terms of driverless trucks, you can trust Amercican Insuring Group to provide smart insurance protection at a great price.
As independent agents we're free to shop among lots of competing insurance carriers. That means you'll get the best rate on quality insurance. To learn more about trucking insurance, contact us online or call us at (800) 947-1270 or (610) 775-3848.