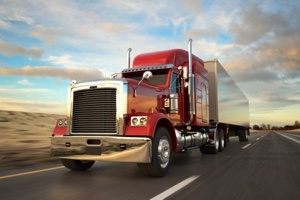 Nearly 70 percent of all freight transported within the U.S. is delivered by trucks every year, and the value of that cargo is about $671 billion in manufactured and retail goods. Also, there is about $295 billion in truck trade with Canada and $195.6 billion with Mexico. And those numbers continue to increase every year.
So, who is responsible for insuring all that freight? What if it gets damaged or lost? Does that responsibility fall on the business sending the cargo or on the carrier transporting it?
When it comes to cargo trucking insurance, typically the person or company transporting the cargo is liable for it until it is delivered and signed for. There are a few exceptions such as acts of God (hurricanes and tornadoes), public authority (authorities placing cargo under quarantine), or damage caused by the shipper (loading the truck improperly).
Do You Transport the Property of Others? Then You Need Cargo Trucking Insurance!
Most companies think about commercial auto insurance to protect against liability, damage, and injuries to their employees. In the transportation industry, protection for your cargo is often equally as important. If you are in the business of transporting the property of others, you need to consider Cargo Trucking Insurance.
What it Covers
Cargo Trucking Insurance covers your liability if the cargo you are transporting is lost or damaged due to fire, collision, or being hit or run over. It covers you while the cargo is under your care, custody, and control until it is delivered and signed for. Some policies even cover the cost of removing debris or pollutants that are accidentally dumped on the road.
Not Available Everywhere
Cargo Trucking Insurance isn't available in all states, and there are some restrictions. On the other hand, some states and most carriers require it for owner operators or companies transporting their goods. And there are federal mandates that require Cargo Truck Insurance in certain circumstances. For example, when you're carrying household goods across state lines.
Types of Trucks That Can be Covered
Cargo Trucking Insurance is only available for dump trucks, tractors, most trailers, box trucks, cement mixers, cargo vans, dually pick-ups, flatbeds, and car haulers. It is not available for garbage or ice cream trucks or passenger transportation such as limos, buses, and hearses.
Cargo Trucking Insurance Costs
The cost of this insurance and the cargo limits can be different depending on the type of cargo being hauled and its origin and destination. To determine the value of the cargo, the owner of the goods should provide a bill of lading, which is required if filing a claim.
As the carrier, you can lower the cost of Cargo Trucking Insurance by increasing your deductible. However, it's important that make sure you have enough money readily available to cover that deductible in the event of damage or loss.
Insurance Exclusions and Limitations
Cargo Trucking Insurance often includes exclusions for specified types of cargo such as live animals, art, jewelry, money, pharmaceuticals, tobacco, and alcohol. There may also be higher deductibles and sub-limits for certain types of cargo, and theft coverage may be capped at an amount lower than the cargo limit. If your vehicle is left unattended and there is damage or loss to the cargo, certain policies will not cover that loss.
We Can Help With All Your Cargo Trucking Insurance Needs
Cargo Trucking Insurance is complicated. There are many exclusions and limitations that insurance agents who do not specialize in trucking insurance may not understand. The independent agents at American Insuring Group are experts in all types of Truck Insurance including Cargo Trucking Insurance.
To learn more about this and other types of commercial insurance, call the friendly agents at American Insuring Group at (800) 947-1270 or (610) 775-3848 or contact us online. You'll save because as independent agents we're free to compare prices and coverage among lots of competing insurance providers.
American Insuring Group - we know trucking insurance!