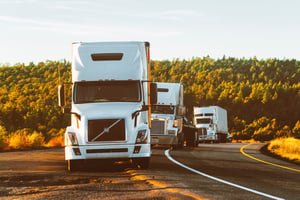 If you own a fleet of trucks, are an independent truck driver, or use trucks for business, you need Commercial Truck Insurance. The right truck insurance helps protect you, your truck, your business, and the public.
State and federal agencies require some types of insurance. For example, the Motor Carrier Act (MCA) of 1980 requires minimum liability limits for trucks over 10,000 pounds ranging from $750,000 to $5 million per accident, depending on what is being transported.
Unfortunately, the minimum insurance requirement is often not enough to keep you in business after an accident, which is why it's important to consider higher limits and additional types of insurance.
The average cost of a large truck crash involving a fatality is $3.6 million per crash.
A collision with injuries costs almost $200,000 per crash.
The average cost of all large truck crashes is about $91,000 per crash.
Having the proper insurance coverage and the right limits will help keep your trucks on the road.
NOTE: Commercial Truck Insurance is not the same as Commercial Auto Insurance because the risks associated with hauling large amounts of materials across state lines are very different from those associated with a delivery van driving around the city.
Types of Commercial Truck Insurance
Primary Liability Insurance (Aka Trucking Liability Insurance) is the minimum insurance required; however, it only covers injuries to other people or damage to other vehicles in the event of an accident. It does not cover your truck, your driver, lawsuits, etc.
General Liability Insurance covers additional risks, such as customer injuries, property damage, and advertising injuries. It helps protect your business from the cost of lawsuits. This type of insurance is often required for leases and contracts.
Physical Damage Insurance (AKA Collision Coverage) is not required by law but covers the cost of fixing or replacing damaged tractors or trailers. Typically, this type of insurance does not cover damage to cargo, drivers' personal items, tools, electronics, or any equipment that is not permanently attached.
Cargo Insurance covers cargo in transit. Typically, it covers the loss or damage to cargo caused by collision, fire, heavy weather, equipment breakdown, theft, and running over or striking the cargo. There are usually exclusions for certain types of cargo, such as art, jewelry, live animals, and explosive materials.
Trailer Interchange Insurance covers physical damage for trailers pulled under a trailer interchange agreement and typically covers damage caused by collision, fire, theft, and vandalism.
Bobtail Insurance (Aka deadhead insurance) is a type of liability insurance that provides coverage when you are bobtailing a truck – operating a truck without an attached trailer or semitrailer.
Workers' Compensation Insurance is required by most employers under Pennsylvania law. It provides medical expenses and lost wages for employees for work-related injuries or illnesses, protects your business from lawsuits, and helps you stay compliant with state regulations.
How to Lower Truck Insurance Costs the Easy Way
Many factors affect insurance premiums, such as where and what you are hauling, the condition of your equipment, etc. However, you can take steps to lower your insurance costs, such as hiring safe drivers, implementing a safety program, increasing deductible amounts, and working with an insurance agent who has experience with the unique needs truck drivers and trucking companies face.
The agents at American Insuring Group have been helping truck drivers and trucking companies for years to ensure they have the right coverage. And as independent agents, they compare the cost of your coverage with several insurance companies to ensure that you get the lowest rates on that coverage.
→ Give us a call today at (800) 947-1270 or (610) 775-3848, or connect with us online.