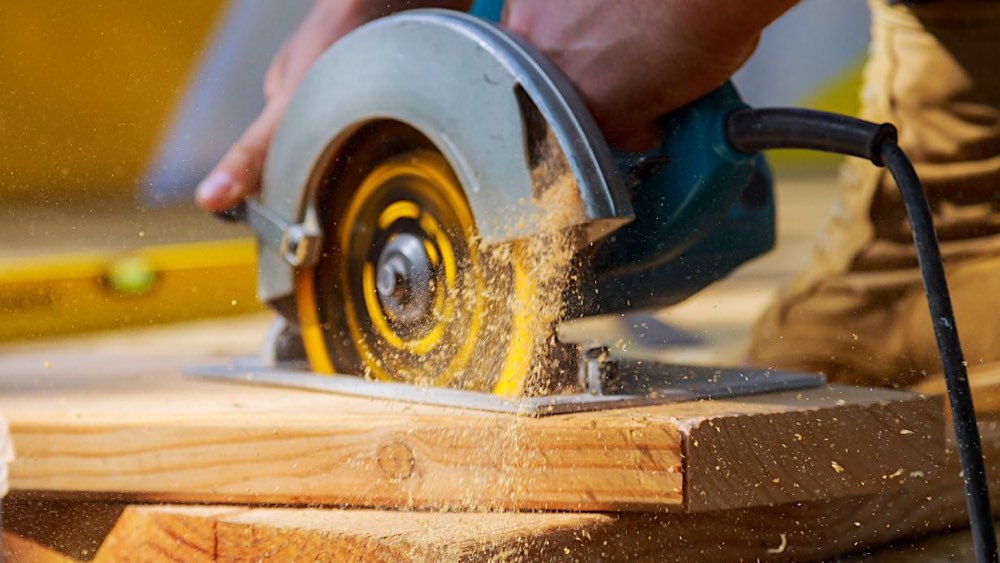 Reducing worksite hazards can help save Contractor Insurance costs, and one significant worksite hazard is power tools, including circular saws. "Approximately 40,000 Americans go to hospital emergency rooms every year with injuries sustained while operating table saws. About 4,000 of those injuries – or more than 10 every day – are amputations," according to the National Consumers League. "Table saw injuries cost the United States approximately $2 billion every year."
Circular saws are a mainstay at most construction worksites; however, these indispensable power tools also come with many hazards:
Projected particles
Electric shocks
Breakage of the disc
Cuts and amputations
Blows caused by objects
Abrasions and becoming trapped
Overstrain
Ambient noise
If you want to lower insurance and other operating costs, it's crucial that you train your workers on these hazards and how to avoid them.
30 Circular Saw Safety Tips
Wear safety glasses
Wear hearing protection
Wear a respirator or dust mask
Keep long hair tied back and avoid wearing loose clothing and jewelry
Prepare a stable surface
Keep the area clear of debris, cutoffs, sawdust, etc.
Check safety features before using a saw
Check the saw for proper blade rotation
Do not start with the blade engaged
Allow the saw to reach full power before cutting
Set the depth of the saw to 1/8" thicker than the material being cut
Do not alter the manufacturer's guard
Don't cut with a dull blade
Select the correct blade for the material being cut
Don't try to twist the blade while cutting
Don't try to remove the blade while it is cutting
Before starting and frequently while cutting, ensure that the blade guard works freely
Be aware of knots, foreign objects such as staples or screws, and sap in the wood
Cut smaller material from larger material first
Use an outfeed table or stand when cutting large pieces of material
Use a push stick when the material has less than six inches of width of stock away from the blade
Stand to the side when cutting material to protect you from kickback
Maintain a solid stance with a wide base to maintain balance
Do not reach over a moving blade
Keep two hands on the saw
Do not force the saw while cutting
Keep electrical cords clear of the cutting path
Unplug the saw before making adjustments, replacing the blade, or repairing the saw
Do not move or carry the saw with your hand or finger on the trigger switch
Take extra precaution if you are left-handed, as circular saws are designed for right-handed people
Want to Lower Your Contractors Insurance Costs?
Want to lower your Contractor Insurance costs? It's simple (not always easy, but simple). Create a safer work environment, which results in fewer injuries, fewer claims, and lower operating costs, including insurance premiums, along with happier, more productive employees and a healthier bottom line.
American Insuring Group can help. As Contractor Insurance experts, we provide a variety of money-saving topics (from policy review tips to contractual risk transfer) and safety-related tips (from protecting construction workers from traumatic brain injuries and circular saw accidents to safe lifting practices). Furthermore, as independent agents, we compare the cost of your coverage with several carriers to ensure you pay the lowest premium.
Don't Wait. Give us a call today at (800) 947-1270 or (610) 775-3848, or connect with us online for a free insurance quote!