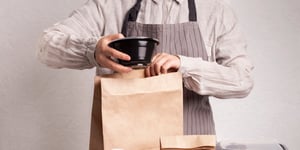 As specialists in Restaurant Insurance, we typically focus on safety and other ways to lower insurance costs. This blog is a little different but has the same goal - to help restaurants succeed.
Few industries have escaped the negative impact of the COVID-19 public health crisis, including the restaurant industry. Toast reports that restaurant sales are down 80% since the restrictions on restaurant operations and the shelter in place mandates went into effect.
As a restaurant owner, you may feel powerless, but it's important to know that there are steps you can take to help ensure the health and safety of your employees, your customers, and your business.
The CARES Act
On March 27, the US government passed a stimulus bill called the "Coronavirus Aid, Relief, and Economic Security Act" – or CARES Act – in response to the COVID-19 health crisis. Here are some of the provisions of the Act that could be relevant to restaurant owners and employees.
The Paycheck Protection Program provides $349 billion in federally-guaranteed loans to small businesses. The loan can be used to help pay for employee salary or wages, cash tips, group health care benefits, etc.
The Emergency Relief and Taxpayer Protection provides loans, loan guarantees, and other investments for direct lending that meet specific criteria, such as a lack of alternative financing and a business that is a US-domiciled business with most employees located in the US.
The Employee Retention Tax Credit (ERTC) provides a refundable payroll tax credit for half of the wages paid by employers to employees during the crisis. To be eligible, the employer had to fully or partially suspended operations due to the shut-down order and experience a decline of more than 50% in gross receipts.
Businesses can now carry a Net Operating Loss (NOL) from 2018, 2019, or 2020 back five years. Plus, the taxable income limitation is temporarily removed, allowing an NOL to offset income fully.
The federal excise tax is waived on distilled spirits used for or contained in hand sanitizer produced and distributed under FDA guidance throughout 2020.
The tax filing deadline has been extended to July 15, and estimated tax payments can be postponed.
Temporary Policies
Understanding that the COVID-19 pandemic has changed the way restaurants are doing business, the FDA has implemented a few temporary policies that are in effect during the COVID-19 public health emergency.
The FDA is temporarily allowing restaurants to sell certain packaged food that is not labeled for retail sale during the COVID-19 pandemic. An example would be ingredients you purchased that can no longer be used to prepare restaurant food.
Restaurants are permitted to sell packaged food that lacks a nutrition facts label as long as it does not make any nutritional claims but does contain other required information, such as an ingredient statement, net quality of contents, etc.
Because many restaurants have switched to takeout only and may be experiencing disruptions in food supply chains, the FDA is also allowing some flexibility to chain restaurants and similar food establishments that are typically required to provide nutritional information on menus.
Employee and Customer Safety
To ensure the safety of your employees, continue to follow established food-safety protocols and CDC and FDA COVID-19 recommendations, including the following:
Regularly disinfect and clean all workspaces and equipment with a disinfectant spray or disposable wipes, focusing on surfaces that are frequently touched.

Prescreen employees (take their temperature and assess any symptoms before they start work).

Provide appropriate PPE, such as gloves, face masks, etc.

Ensure that employees follow proper hand hygiene by frequently washing their hands with soap and water for at least 20 seconds – before, during, and after food prep, after using the bathroom, after blowing their nose, coughing, or sneezing, etc.

Practice social distancing.
Tell employees who are sick to stay home. If an ill employee does come to work, immediately send them home, clean and disinfect their workspace, and consider any employees with close contact to that employee as exposed.
Tell employees that if they know they have been exposed to COVID-19 to tell their supervisor and follow CDC-recommended precautions.
How to Save on Insurance During the COVID-19 Pandemic
Every dollar counts right now, so here are a few tips that could help lower your Restaurant Insurance costs during the COVID-19 pandemic. Check with an experienced insurance agent to determine which of these tips apply to your situation.
Lower your estimated payroll on your Workers' Compensation Insurance.
Drop Workers' Compensation insurance altogether. Purchase again when employees are rehired.
Lower the estimated sales on your General Liability Insurance.
Change your vehicle usage to pleasure use on your Commercial Vehicle Insurance.
If you currently have Liquor Liability Insurance and are not serving liquor, remove the insurance from your policy. Purchase again when you begin serving alcohol.
Remove Employment Practices (sexual harassment, discrimination, etc.) coverage if your business is closed, and everyone is laid off.
Remove all "non-essential" insurances.
Ask your insurance company for maximum discounting due to the pandemic.
Ask an independent agent to make some price comparisons on your coverage. With insurance sales down everywhere, you may be able to find a lower rate for the same coverage.
Start Saving on Restaurant Insurance Today!
These are just some of the ways to save on Business Insurance during this pandemic. If you're ready to start saving then give one of the independent agents at American Insuring Group a call at (800) 947-1270 or (610) 775-3848 or connect with us online. We would love to help you save money on your Business Insurance during these uncertain times!