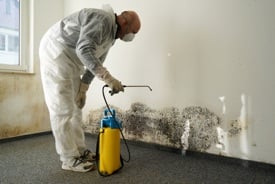 Attention: restoration contractors! You may have lucrative opportunities from an unlikely source—mold. Yes, the fungus that grows in moisture-laden areas of many old homes has created a demand for professional mold remediation services. Done right, you can grow your mold remediation business while controlling your contractors insurance rates.
Mold is one problem that homeowners cannot just ignore. Not only does it look disgusting, but it can also weaken the walls, ceilings, floor, and foundation of a house. And it presents a substantial risk to the health and safety of its inhabitants.
Income vs. Risk
But along with the possibility of additional income, mold has created new risks for businesses that work on water damage restoration, mold removal, or construction. By implementing a mold risk management strategy, however, contractors can participate in these business openings without endangering their company with uninsured liability.
A recent history of mold and insurance
Around 2001, the number of insurance claims for mold damages soared, as did the income for restoration contractors. Unfortunately, the insurance industry had not expected this rush of claims, and they had not priced them into their policies. In response, insurance companies were compelled to begin issuing mold exclusions and limitations. While these exclusions are not standardized, almost every type of property and liability insurance policy has them.
Liability exposure increases for contractors
Without contractors insurance to help resolve their mold problems, some property owners tackled the mold themselves (bad idea!) or sought out mold remediation experts. But these experts are not the only contractors who come up against mold on a regular basis. Restoration contractors, plumbers, and electricians also encounter mold on their job sites. Even though they have not been hired to eliminate a mold issue, these contractors should always inform the property owner when they discover mold. So, why should this put any contractor at risk?
Disgruntled homeowners often blame their contractor
In an ironic twist, many homeowners began filing lawsuits against the contractors who pointed out the mold to them. This shoot-the-messenger mentality put contractors at risk of liability. The Commercial General Liability Insurance (CGL) policy, usually a protective tool for a contractor, has the same pollution exclusion clause as the homeowner's policy. This exclusion states that the insurance does not cover any bodily or property harm caused by the escape, dispersal, or release of pollutants.
Is mold a pollutant? There is no universal agreement on this from the courts. Some have found the policies to be vague in their definition of pollution, while other courts have defined mold as an airborne pollutant.
Contractors are advised not to expose their business to chance
Contractors need to protect themselves against potentially devastating lawsuits. There are now insurance policies that specifically cover mold and pollutants. Contractors Pollution Liability (CPL) can be added to your CGL to cover liability for these pollutants and provide an unambiguous definition that includes mold or fungi.
CPL is probably the best available policy for contractors wanting to avoid liability when they discover mold on a job site. And there are other methods contractors can use to manage their mold risks.
Reduce Your Risk With an Arsenal of Protection
Choose your customers wisely: If your client is aware of a mold problem and knows the insurance company won't cover it, you may want to walk away from this job.
Document your work: Leave nothing to chance. Use photos, notes, and witnesses to corroborate your findings.
Treat your customer with empathy: Approach your client with a plan of action that shows you understand his problem and will work with him to solve it.
Protect yourself: Adding CPL to your contractors insurance will complete an arsenal that will mitigate your mold risks.
Get Help For All Your Business Insurance Needs

To learn more about Commercial General Liability and Contractors Pollution Liability insurance, or for any business insurance need, contact American Insuring Group online or call us at (800) 947-1270 or (610) 775-3848. We offer insurance from over 25 competing carriers, so we're sure to find you the right insurance at the right price. Call or click today!