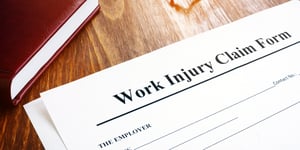 Most employers in Pennsylvania are required to carry Workers' Compensation (WC) Insurance to pay medical expenses and lost wages if an employee is injured or develops an illness on the job.
The majority of WC claims are legitimate; however, Workers' Comp fraud is costing businesses billions of dollars every year. WC fraud occurs when employees fake an injury, exaggerate an injury, claim an injury occurred at work when it did not, etc.
If an employer doesn't want to pay more than they have to for WC Insurance, they need to be on the lookout for questionable claims. Here are 4 valuable tips:
Report All Injury Claims
Even if you suspect a claim is not legit, you must report all injury claims to your Workers' Compensation Insurance carrier. Failing to do so could result in hefty penalties.
To do this, complete an injury/illness report. Some employers have their own reporting forms, and others use forms from their WC carrier or state WC agency. You should have every type of workplace accident report form available to avoid legal issues. Fill out the form with the injured employee if possible or deliver the form to the doctor who attended the employee first.
Typical information requested on these forms include (but is not limited to) the following:
Date of injury
Where the injury occurred
A description of the injury or illness
When the employee became aware of the injury or illness
The date the injured employee received AND returned the form
Inspect and Document
You can help any WC investigation by gathering information as soon as an injury occurs while the information is fresh in everyone's minds. That includes surveying the scene of the accident, collecting information (such as talking to witnesses and writing down the details of the accident), and completing an incident report.
Try to determine the leading cause or causes of the accident and answer (in writing) the following questions:
Were company rules and regulations followed?
Were there any witnesses?
Did something unique happen that caused the accident?
Could the accident have been prevented?
If it could have been prevented, why wasn't it?
Is the risk still there?
As soon as possible, take photographs where the accident happened and any potential causes of the accident. Ask the doctor to document the state of the employee's injuries.
If there are witnesses, get the following information from them:
Their name
Their address
Contact information
A summary of what they saw
Let Your Claim Handler Know if You Believe a Claim is Questionable
The claim handler has experience and training in investigating WC claims – both legitimate and false claims, and they have the authority to deny a claim. However, you know more about your employees, your work environment, and the circumstances of an employee's claim than the claim handler.
If you feel a claim is questionable, you must let your claim handler know so that they can conduct a proper investigation.
Continue Communication
Once a claim is filed, the employer must continue to communicate with the carrier. Immediately forward any relevant information, such as medical documentation. Your claim handler may ask for additional information, such as the number of lost workdays, the RTW status, etc. If you want the claim resolved quickly, respond to claim handlers promptly.
How to Immediately Lower Workers' Compensation Insurance Costs:
If you want to lower your WC costs, work with an independent insurance agent like the pros at American Insuring Group. We can offer you lots of choices in WC insurance carriers. We'll make sure you get the right coverage at the right price. Give us a call today at (800) 947-1270 or (610) 775-3848 or connect with us online.