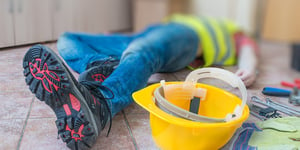 Every business in Pennsylvania with one or more employees is required to provide Workers' Compensation Insurance to its employees – with very few exceptions. It's the law. It doesn't matter if those employees are full-time or part-time or even family members. Not having workers' compensation insurance is a criminal offense. In Pennsylvania, you could face fines up to $2,500 and/or prison time.
Workers' Compensation Insurance is designed to protect both the employee and the employer. There are two essential parts to WC insurance. The first part is coverage for medical expenses, rehabilitation costs, disability compensation, and lost wages when an employee is injured or becomes ill "in the course and scope" of their job, regardless of fault. It also pays death penalties to the family of an employee who is killed on the job.
According to the National Safety Council, the average cost of a WC claim in 2016-2017 was $40,051, with WC claims caused by injuries resulting from motor-vehicle crashes averaging $78,293. For many businesses, paying that amount of money out of pocket could put them out of business.
The second part of WC Insurance is coverage for employer liability. The first part of WC pays medical costs for work-related injuries and illnesses regardless of fault. However, if an employee feels the employer was negligent, they can file a lawsuit for additional damages in some instances. This is where the second part of WC – employer's liability – kicks in. It helps employers pay for legal expenses, such as attorney's fees, court fees, and settlements or judgments.
Types of Claims Employer's Liability Insurance Covers
Third-Party Action
An employee who is injured on the job and receives workers' comp benefits can't sue their employer directly; however, they can sue a third party, such as the manufacturer of a piece of equipment that caused the injury. The manufacturer can then file a lawsuit against your company, creating a third-party action lawsuit.
Consequential Damage
An example of consequential damage would be a spouse who is injured as a result of caring for the injured employee.
Loss of Consortium
If an employee is severely injured or killed on the job, their spouse can file a lawsuit when the injury or death results in the loss of a family relationship.
Dual-Capacity Suit
A dual-capacity lawsuit can occur if the employer and injured employee have more than one relationship. For example, if you manufactured a product that could have caused the injury, the employee can hold you liable.
What About Commercial General Liability (CGL) Insurance?
CGL covers bodily injury, personal injury, and property damage caused during business operations, as a result of one of your products, or on your business premises. Here are a few examples of when CGL will cover you.
A customer falls and hurts themselves while in your restaurant.
One of your employees accidentally causes a fire while working on the electrical panel in a customer's home that causes damage.
Someone files a libel or slander claim as a result of an ad that you placed.
One of the most important things to remember about Commercial General Liability Insurance is that it does NOT cover bodily injury to an employee. That is what Workers' Compensation is for.
Protect Your Business While Saving Money
American Insuring Group offers both Workers' Comp Insurance and Commercial General Liability Insurance, along with any other type of insurance you may need to protect your business. Plus, as independent agents, we compare the cost of coverage among many insurance companies to ensure that you get the lowest price on quality insurance protection. Give our experts a call today at (800) 947-1270 or (610) 775-3848 or connect with us online.