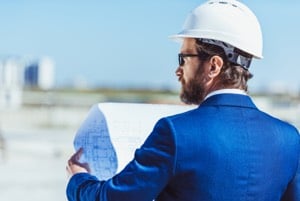 The construction industry is booming – both new construction and remodeling - and it looks as if that trend will continue. Construction has a 4.5% projected growth rate over the next five years.
In fact, construction is expected to be one of the fastest growing industries into 2020, according to the Bureau of Labor Statistics. Real output in the construction industry is expected to reach $1.2 trillion by 2020.
This is excellent news if you're in the business of building or remodeling houses. It translates into big opportunities for builders. Unfortunately, it can also bring higher risk, making now the perfect time to let the experienced independent agents at American Insuring Group review your Builders Risk Insurance to make sure you have the right coverage to adequately protect your business.
What is Builders Risk Insurance?
Builders Risk Insurance is a type of property insurance unique to the construction industry. It covers structures or building materials during construction. It provides coverage for damage from events such as fire, wind, theft, hail, explosion, lightning, and vandalism. Builders Risk Insurance is typically written for three, six, or twelve month periods, and can be extended (although usually only once) if the project takes longer than anticipated.
This insurance pays for damages up to the coverage limit, which should be based on the total completed value of the structure including not only materials but also labor costs. The best way to determine that value is to look at the construction budget.
Standard Exclusions
Standard exclusions on builders risk insurance include earthquake, employee theft, water damage, weather damage to property in the open, war, government action, contract penalties, voluntary parting, and mechanical breakdown. Another typical exclusion results from faulty design, planning, workmanship, and materials, which can be covered by Professional Liability Insurance.
Here are a few more things that you should know about Builders Risk Insurance:
It doesn't cover the property of others
Subcontractors must have their own insurance
Tools and equipment are not included
Accidents on the job site are not covered
Once the building is completed or occupied, the coverage usually ends
It doesn't cover professional liability
Does the Booming Industry Mean Higher Builders Risk Insurance Premiums?
Historically, Builders Risk Insurance has been safe from dramatic increases. Increases tend to be small and incremental. And experts don't foresee that changing even with the increase in construction projects. However, 2017 was the costliest year ever for weather and climate disasters in the U.S. totaling $306 billion. The U.S. was hit by 16 weather events that caused more than a billion dollars in damage. Previously, 2005 held the record at $215 billion.
Most experts agree that the cost of this damage will only slightly increase builders risk insurance premiums particularly with frame construction and construction in areas that are prone to catastrophes.
How to make Builders Risk Insurance Work for you in this lucrative market
Cover Your Entire Project - Many builders purchase builders risk insurance because their lending institution requires it, so they only cover the bare minimum: labor and materials. These are the parts of the project the banks have an interest in, but you need to protect your interests as well, which include overhead and profit.


Spell it out with a detailed contract – Make it very clear in the contract who (contractor, owner, designer) is responsible for what if something goes wrong. The American Institute of Architects offers comprehensive contract templates.


Don't be Naïve – Whether your company is big or small, you do face risk, and if you don't have a lot of cash flow even a small amount of damage can be catastrophic.


Hire good subcontractors – Verify that all of your subcontractors have certificates of insurance with adequate limits. You may also want to secure a waiver of subrogation and list subcontractors as additional insured for both operations and completed operations for the project. This way, if there is a lawsuit, the subcontractor's insurance will defend the contractor.
---
Contact Us to Review Your Business Insurance Policies
Now – while business is booming – is the perfect time to review your business insurance policies!
The agents at American Insuring Group specialize in Contractors Insurance and finding ways to lower your risk while reducing your costs.
Give us a call at (800) 947-1270 or (610) 775-3848 or contact us online. We'll be happy to review your policy to ensure that you have adequate coverage to protect your business.