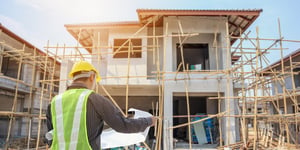 Builders' Risk Insurance is a type of Contractor Insurance designed to help protect contractors, subcontractors, and construction companies if there is damage to buildings or structures during construction. You may ask, "Isn't that what Commercial Property Insurance and General Liability Insurance is for?" The answer is not a simple "yes" or "no."
What is Builders' Risk Insurance?
Builders' Risk Insurance - sometimes called Course of Construction Insurance or Inland Marine coverage – is a temporary insurance policy that can help protect a specific renovation or new building while under construction. It is designed to protect a building, structure, materials, tools, and equipment on a job site, in transit, or stored elsewhere during construction or renovation.
Builders' Risk Insurance is typically purchased by property owners, general contractors, subcontractors, lenders, or architects – anyone with a financial interest in the project. Usually, we recommend that it is purchased before materials are delivered and end only when the property is ready to be occupied or sold.
The cost of Builders' Insurance varies depending on the type of project, the construction materials used, and the policy coverage amounts and limits. The coverage amount should include the total estimated cost of the completed project – including land value, materials, and labor.
Sometimes, a client contract will require that you carry Builders' Risk Insurance, and sometimes, you may be covered under the property owner or developer's insurance.
What Does Builders' Risk Insurance Cover?
Every project is unique; therefore, every Builders' Risk Policy is unique. Consequently, it's crucial that you work with an experienced insurance agent to ensure you have the right coverage, so there are no unpleasant surprises if you need to file a claim.
Typically, a Builders' Risk policy will cover damages caused by the following:
Fire

Vandalism

Theft

Explosion

Weather events, such as hail or lightning

Vehicle accident
Additional perils included in some Builders' Risk policies include the following:
Damage to temporary structures

Removal and disposal of pollutants

Costs incurred by delayed construction, such as lost rental income or loan interest

Changes required to meet environmental standards
Perils that are not covered in a typical Builders' Risk policy include the following:
Wind

Flood

Earthquake

Normal wear and tear

Employee theft

Terrorism

Faulty work or materials

Mechanical breakdowns

Contractual penalties
Some policies do cover these last perils but come with higher deductibles. An extension or endorsement to your policy may also cover these perils.
When reading an insurance policy, it is also essential to understand the difference between a "structure" and a "building." A structure is usually temporary and is not occupied – such as scaffolding or a temporary structure built to store materials. A building is a structure – such as a house or an office building – that can be occupied.
Why Isn't Commercial Property Insurance and General Liability Insurance Enough?
Commercial Property Insurance is designed to cover commercial properties – buildings and everything in them - from perils such as fire, damage caused by theft, and natural disasters. You'll want to purchase this type of insurance to protect your office space, warehouse, or other buildings you use to conduct business. However, Commercial Property Insurance does not typically cover damage to your equipment or materials when offsite or in transit, nor does it usually cover buildings that are under construction.
General Liability Insurance is designed to protect your business if you are responsible for property damage or bodily injury to others. It does not cover your property if it is damaged.
How Can I Get the Lowest Price on Builders' Risk Insurance?
If you want to get the right coverage at the lowest cost, work with an independent insurance agency like American Insuring Group. They specialize in Contractors Insurance throughout Pennsylvania, from Philadelphia to Pittsburgh and all points in between.
They can help you customize your Builders' Risk Insurance to meet your specific needs and compare the cost of your coverage with several insurance companies to ensure that you're paying the lowest price for that coverage.
Give the independent agents at American Insuring Group a call at (800) 947-1270 or (610) 775-3848 or connect with us online for a free quote on all of your business insurance needs.