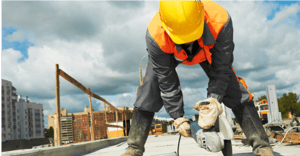 Every business comes with its share of risk, and a contracting business is no different. If anything, contractors face more than the average risk. Fortunately, there are things you can do to minimize or even eliminate many of those risks. Plus, Contractors Insurance acts as a safety net when, despite your best efforts, something does go wrong.
Your first step is to identify potential risks, so here are three of the top risks that contractors need to be aware of and tips to minimize those risks:
Injuries
Construction worksites are full of potential hazards, making construction one of the most dangerous occupations. According to the Occupational Safety and Health Administration (OSHA), approximately 20% of private-industry worker fatalities are in construction.
However, it isn't just workers who pose a risk. Non-employees, such as vendors and clients, are often unfamiliar with safety rules, and can also be injured on construction worksites.
Minimize Risk of Injury
OSHA has identified the four biggest construction hazards – called the Fatal Four - as falls, electrocution, caught-in, and struck-by. These four hazards were the leading causes of death in 90% of all construction fatalities.
To minimize the risk of injury, develop and enforce a safety program, and all employees should receive proper safety training.
Equipment Damage or Loss
Tools and equipment are one of a contractor's most vital assets. From something as small as a hammer to as big as a backhoe, you need them to get the job done. If a hammer is damaged, lost, or stolen, it can be quickly, easily, and fairly inexpensively replaced with a quick trip to Loews or Home Depot.
Unfortunately, the same can not be said for larger equipment such as excavators, bulldozers, tower cranes, dump trucks, etc. These items are just as vital to get jobs done but not as easy – or inexpensive to replace. If one of these items is damaged or stolen, it can put a serious crimp in your schedule… and your bottom line.
Minimize Risk of Theft
More than 11,000 pieces of heavy equipment were reported stolen in 2016, according to Construction Business Owner. Thankfully, there are things you can do to minimize the risk of theft, such as enforcing a theft-prevention policy, securing your job site with fencing, locking up all of your tools, and securing heavy equipment.
Minimize Risk of Damage
Employees should be well-trained in the proper use of heavy equipment and how to use them safely. It's also essential that you take the time to read the equipment's owner's manual and adhere to factory recommendations. There should be a preventative maintenance program in place, and all equipment should be inspected before use – every time.
Faulty Work
You can be held liable for construction defects in completed projects or those that are not up to code. And a client can seek reimbursement if you have not complied with local, state, and federal building regulations. This not only hurts your bottom line but can also harm your business's reputation.
Minimize the Risk of Faulty Work
To minimize this risk, review the contract's terms and policy coverage, implement a quality control program, and understand and comply with building codes and regulations.
Insurance: Your Safety Net
Sometimes, despite your best efforts, a piece of expensive equipment is damaged, or a smart thief gets through your anti-theft measures. Repairing or Replacing that equipment can cost your business tens of thousands of dollars. The right insurance can help cover those costs.
Commercial Property Insurance
Your commercial property policy typically covers tools and equipment that are lost or damaged. It may also cover your lost income if you are unable to continue work without the damaged equipment. However, Commercial Property Insurance typically does not cover equipment that is mobile, in a vehicle, or stored at a job site.
Builders' Risk Insurance (Aka Inland Marine or Course of Construction coverage)
Builders' Risk Insurance typically protects structures, materials, and equipment that are in transit, onsite, or in a temporary location. Some policies also cover additional costs such as lost sales if construction is delayed.
License and Permit Bond
A License and Permit Bond guarantees that a business will operate in accordance with local, state, and federal laws and regulations. If there is a mistake, this bond will cover damages your client claims. However, unlike other insurance policies, you are responsible for paying back anything your provider pays for the claim.
Protect Yourself with the Right Contractors' Insurance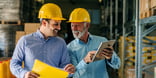 Understanding these three risks, minimizing them, and having the right insurance is vital for a healthy bottom line and the success of any contracting business.
Because the American Insuring Group specializes in contractors' insurance, we can help you with all three. Plus, as independent agents, we can ensure that you get the best price by comparing quotes and coverages from multiple insurance companies. So don't delay. Give us a call at (800) 947-1270 or (610) 775-3848 or connect with us online.