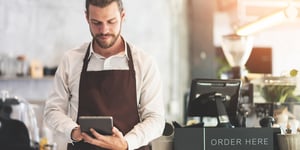 As a contractor or restaurant owner, you're probably looking for ways to cut costs and improve your bottom line. A Business Owners Policy – or BOP – is a flexible and affordable way to save on Commercial Insurance, but it isn't right for every business.
An experienced insurance agent – like the independent agents at American Insuring Group – can help you determine if it's right for your business.
Here's what you need to know.
What Is a Business Owners Policy (BOP)?
A BOP combines Commercial General Liability (CGL) Insurance and Property Insurance – two types of insurance most business owners need to protect their business - at a discount.
Commercial General Liability Insurance, which may be required by a client or landlord, typically covers lawsuits that result in bodily injury or property damage that is caused by slip-and-fall accidents, third-party property damage, product liability, advertising injuries, and copyright infringement.
The expense of a lawsuit can have a devastating impact on a small business. According to a U.S. Chamber of Commerce report, legal issues are costing small US businesses more than $100 billion every year. Because small businesses are more likely to settle rather than get tied up in litigation, they are often the target of frivolous lawsuits, which is costing about $35.6 billion in settlements each year.
CGL does not cover employee injuries, which are typically covered by Workers' Compensation Insurance.
Property Insurance covers damage to your building and its contents due to a covered cause of loss, such as a fire, explosion, storm, theft, or vandalism. Most Property Insurance policies do not cover earthquakes and floods; however, some policies cover a loss of income or an increase in expenses that result from property damage that is covered.
For example, if a fire in your oven causes you to shut-down for a few days until repairs can be made, Property Insurance may include Business Interruption Insurance to cover the income you would lose by shutting down.
Another example is a fire in a contractor's office that destroys files or materials required to conduct business.
Do I Qualify For a Business Owners Policy
Although they can save businesses money, BOPs are not right for every business, and not every business will qualify for a BOP. Typically, low-risk small businesses that meet the following criteria will qualify for a BOP:
A small workspace
Less than $1 million in revenue per year
Fewer than 100 employees
A low-risk industry
A less than 12 months of Business Interruption Insurance requirement
As a contractor, you may think that your business is not a low-risk industry. Heavy construction, along with mid-sized and large construction businesses, may not qualify for a BOP, which is more appropriate for small contractors or subcontractors. However, it's always a good idea to ask your insurance agent if this would be a good addition to your overall contractors insurance.
Is a BOP Right For My Business?
BOPs typically have a cap on policy limits – the maximum amount the policy will pay in the event of a claim. Make sure your CGL limit is enough to cover the cost of a potential lawsuit and make sure your Property Insurance limit would cover the value of your property.
If a BOP provides enough protection for your business, it could save you money.
What Doesn't a BOP Cover?
The basic coverage of a BOP may not cover certain circumstances. For example, contractors may discover that equipment that is transported or stored on a job site may not be covered under CGL; that is what Inland Marine Insurance is designed for.
A restaurant owner who serves alcohol may find that a BOP may not cover a lawsuit that arises from an intoxicated person served at your restaurant; that's what Liquor Liability Insurance for your restaurant covers.
How Else Can I Save on Contractor or Restaurant Insurance?
To save even more on your business insurance costs, work with an independent insurance agent like those at American Insuring Group who 1) specialize in contractor and restaurant insurance, and 2) can compare the price and quality of your coverage among several competing insurance companies.
American Insuring Group has you covered. Give one of our experienced independent agents a call today at (800) 947-1270 or (610) 775-3848 or connect with us online.
We serve the greater Philadelphia, Reading, Pittsburgh, Lehigh Valley, Harrisburg, Lancaster, Erie, PA region and beyond.