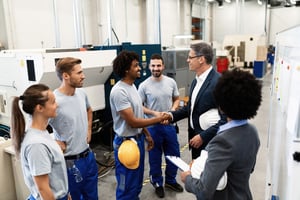 In an attempt to lower workers' compensation insurance costs, some companies implement safety incentive programs. For example, everyone receives a $25 gift card if there are no injuries reported for thirty days. This type of incentive program is called a "results-based" program, and at least on paper, makes perfect sense.
According to one study, between 1991 and 2001, companies with a safety incentive program saw a 44.16% reduction in the mean lost-time workday injury rate.
Again, this makes perfect sense; a safer workplace means fewer injuries and lower WC costs, so a company with no reported injuries for thirty days is a safer workplace, right? Maybe. The biggest flaw found in a results-based incentive program is that it can encourage underreporting.
A 2010 survey conducted by the Government Accountability Office, found that approximately 75% of manufacturers in the US had safety incentive programs that could potentially affect workers' reporting of injuries and illnesses.
Let's say on day twenty Joe Smith incurs an injury, but he doesn't want to blow the $25 gift card for all of his coworkers, so he decides (or is pressured by coworkers) to wait to report the incident. When he does finally report that injury ten days later, there could be complications resulting in a more severe injury and higher medical costs.
Plus, if the injury is caused by an unsafe situation, another employee could be injured before the initial injury is reported and the hazardous situation remedied. Either way, you're looking at higher medical costs and higher workers' compensation costs.
That doesn't mean that safety incentive programs don't work. They can motivate employees to pay attention to safety and to work more safely, but they have to be done correctly. If the incentive program focuses on the incentive and not actual safety, it can interfere with creating a safer work environment.
Here are six tips to help you create an effective safety incentive program to help lower your workers' compensation costs:
---
An Incentive Program Has to Be Part of a Comprehensive Safety Program
Some companies try to create an incentive program without having a comprehensive safety program – including safety training, accident investigations, a return-to-work program, etc. - in place. An incentive program is a way to encourage employees to engage in a company's safety program and safe actions that it creates.
Consider "Process-Based" Incentives
As discussed earlier, a results-based incentive program can result in unreported injuries, which is not reducing accidents or injuries. Instead of rewarding employees for the number of days without an incident, try rewarding positive, proactive behavior such as attending safety meetings, wearing PPE, scoring well on a safety training quiz, or suggesting ways to create a safer workplace.
Provide Genuine and Meaningful Incentives
You need to find out what motivates your employees, and you need to offer a meaningful incentive that is worth achieving. Not everyone is motivated by money. Some would rather be recognized for doing a good job.
Incentives can include a pizza party or exclusive T-shirts with the company logo or an annual recognition dinner where employees on every level mingle, and top management presents awards to employees who have practiced safe work practices.
Award Incentives Often and to Many Employees
Workplace safety is a year-round activity. If you only award employees once a year, it's easy to forget about safety three or four months into a program. Instead, offer frequent rewards – quarterly, monthly, or even weekly.
Everybody wins when you offer a safe work environment, so your incentive programs should take that same approach and award everyone – from top management to individual employees and from employees who already work safely to those who need encouragement to work more safely.
Get Buy-In From Upper Management
Upper management is footing the bill, so they need to understand the goals of the program and how it will progress. It takes a while to see a decrease in injuries and the resulting lower WC costs.
Plus, there is usually an upfront investment required for things like signs, results boards, and even time. As the program progresses and employees become more familiar with the program, those costs typically decrease.
But if upper management doesn't see immediate results, they could withdraw their support if they don't understand the process.
And in order to create a culture of safety, upper management needs to buy into your company's safety program, including incentives.
KISS
Keep it Simple Stupid! Don't make an incentive program so complicated that your employees don't understand what they need to do in order to receive the award. If it's too complicated, a safety incentive program could backfire by lowering employee morale.
Providing a safe working environment is every employer's responsibility. The good news is that efforts to create a safer workplace – such as safety incentive programs – can also help improve your bottom-line.
Get the Best Price on Workers' Comp insurance
The experienced independent agents at American Insuring Group are committed to getting you the very best price on quality workers' compensation insurance protection. Give us a call at (800) 947-1270 or (610) 775-3848 or find us online.