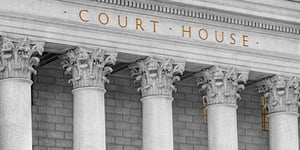 In Pennsylvania, almost all employers are required to carry Workers' Compensation Insurance (WC) for their employees. WC covers medical costs and lost wages for an employee that is injured on the job. WC also protects employers from negligence lawsuits.
However, that doesn't make employers impervious to WC litigation. Under Pennsylvania law, if a workers' comp claim is denied, the injured employee has up to three years to file an appeal. And statistics show that litigated workers' compensation claims cost businesses more money, making minimizing the risk of litigation a smart move.
Here are four tips to Lower the Risk of Workers' Compensation Litigation.
Minimize the Risk of Injury
The best way to minimize the risk of WC litigation is to reduce the risk of injury with a workplace safety program.
According to the Society for Human Resource Management (SHRM), every workplace safety program should include the following elements:
Commitment from management

Employee Involvement

A workplace analysis

Hazard prevention and control

Employee training

Communication
Creating a safer work environment does more than lower the risk of litigation. It also helps improve your bottom line. Discover the impact of workplace injuries on your profitability with OSHA's "$afety Pays" program.
Understand Why Injured Employees Seek Litigation
A Workers Compensation Research Institute (WCRI) study in 2014 took a look at why employees will hire an attorney. Here are the three primary reasons:
Fear of getting fired just because they were injured on the job

A belief that their supervisors don't believe it's a legitimate injury

Concerns that the claim will be denied
Once you know what can trigger an injured employee to seek litigation, you can take steps to prevent those triggers from happening.
Communicate With Injured Employees
One of those steps is to communicate with injured employees. In that study, WCRI found that 33% of all the injured workers they surveyed were afraid that they were going to be fired. Regular communication with an injured employee can help eliminate that and many other uncertainties (which is often why people seek litigation).
As soon as possible, someone from your company should reach out to the injured employee to ask how they're doing. But, first, you need to determine the best person to keep in touch with the injured employee. That person could be the employee's immediate supervisor, someone from human resources, etc.
Then, you should have weekly face-to-face meetings with injured employees to show them that you value them, get updates on their medical condition, and discuss a potential transitional duty job. During these regular meetings, you can also gauge the attitude of the injured employee more quickly.
During these conversations, you should listen to and address their concerns, assure them that their job is safe, and encourage them to focus on recovery.
Have a Return to Work program
A return to work (RTW) program helps bring injured employees back to work more quickly. That could mean modified duties for the employee until they can medically return to their original job. In addition, an RTW helps an employee feel more productive and more connected to their workplace, which means they will be less likely to seek litigation.
The PA Department of Labor & Industry states, "Return-to-Work programs benefit all partners in the compensation system."
Injured workers maintain employment security, seniority, and benefits and receive personalized and effective treatment;

Employers retain experienced employees while reducing accident and workplace costs;

Health care providers are supported in their decisions and treatment strategies;

Unions maintain the employment rights of their members; and

The workers' compensation system can manage rising health care costs and provide high levels of benefits to injured workers and their dependents.
And, of course, RTW programs help minimize the potential for an injured employee to seek litigation.
Save on Workers' Compensation Insurance
The experienced agents at American Insuring Group specialize in WC insurance and ensure you have the right coverage at the best price. Give us a call at (800) 947-1270 or (610) 775-3848, or connect with us online.