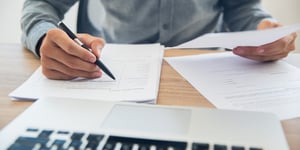 In Pennsylvania, almost every employer is required to carry Workers' Compensation Insurance for their employees; however, they are not required to pay more than they have to.
There are many ways employers can lower WC costs - creating a safer workplace, working with an insurance agent – like those at American Insuring Group - who specializes in Workers' Comp, and reviewing your company's WC Loss Run Report at least once a year.
What is a Loss Run Report?
A Loss Run Report – issued by your current insurance provider - shows your company's claim activity for the policy period. You can request this report for most types of business insurance – including Workers' Comp, and most states require the company to provide the report within a certain amount of time.
Loss Run Reports list the date of each loss and claim, a brief description of each claim, the amount paid to the insured, and whether or not the claim is closed. You can think of it like a credit report or report card for insurance companies. They use the information in the report to determine how risky a business is to insure, which can affect the premium you pay for insurance or even if an insurance company will issue a policy or renew a policy for your business.
You can use the information to lower your insurance costs and even improve other areas of your business.
What Should You Review on a Loss Run Report?
Accuracy
At the very minimum, you should check the Loss Run Report for accuracy. Ensure that you recognize every claim listed on the report and that the information listed is correct. Invalid claims or incorrect information could impact how much you pay for insurance.
Common Injuries
The report also lists the most common and frequent injuries and where they occurred. You can use this information to improve safety and lower the number of injuries within your company, reducing your insurance (and other) costs.
Claimants
Suppose you notice a high number of claims from one individual or specifically from new hires. In that case, you can talk to them about safety or adjust your safety training to help reduce the likelihood of additional claims.
Lost Time
Lost-Time claims indicate that compensation was paid to an injured worker who cannot perform their job due to the injury. The national average for lost-time claims is between 20 and 25 percent. If you notice a high percentage of lost-time claims, you may want to take a look at your Return-to-Work program. There are many benefits for both employee and employer to get injured employees back to work as soon as possible – even if it's in a modified capacity.
Reporting Time
Injuries should be reported within 24 hours whenever possible so the injured employee can receive quick and proper treatment. If you notice a pattern of a long time between when an injury occurs and when it is reported, you may need to look at additional safety training for management.
Open Claims
The longer a claim is open, the more it costs you, so your goal should be to close claims as quickly as possible. Any open claims should be monitored closely.
Litigation
A large percentage of litigated claims could be a red flag. It could be an indication that employees are dissatisfied with their employer or their job. If you see a large percentage of litigated claims on your loss run report, you may want to consider how well management communicates with employees, your business culture, or other areas that can cause discontent among employees.
How to Lower Your Workers' Compensation Insurance Costs
They say "knowledge is power," which is certainly true when it comes to lowering your Workers' Compensation costs. If you don't know there's a problem, you can't fix it. A Loss Run Report can help identify potential issues that you can address to improve your company's bottom line.
Working with an independent agent with experience in WC insurance – as the agents at American Insuring Group do – is another way to lower your WC costs. We will compare costs and options among competing worker's compensation insurance carriers to be sure you get the right insurance at the best price. Call today at (800) 947-1270 or (610) 775-3848, or connect with us online.