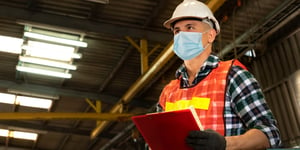 Minimizing injuries in the workplace benefits everyone – from a better quality of life for employees to higher productivity and lower Workers Compensation Insurance costs for employers. Therefore, keeping employees safe should be a top priority for any employer. One way to keep employees safe is with proper personal protective equipment (PPE).
What is Personal Protective Equipment?
PPE is equipment employees wear to minimize exposure to hazards that can cause injuries and illnesses in the workplace. PPE is designed to protect employees from chemical, electrical, physical, and other workplace hazards. Examples of PPE include gloves, hard hats, safety glasses, earplugs, facemasks, etc.
To be effective, PPE must be safely designed and constructed, and properly maintained. PPE must fit workers properly, or it can create a hazard. And employees must be trained on how to use PPE correctly, including the following:
When PPE is necessary

What type of PPE is needed

How to wear PPE correctly

How to properly maintain PPE

The limitations of PPE
OSHA Employer Obligations
The Occupational Safety and Health Administration (OSHA) states, "…when engineering, work practice, and administrative controls are not feasible or do not provide sufficient protection, employers must provide personal protective equipment (PPE) to you and ensure its use."
Employers cannot require employees to provide their own PPE, and – with very few exceptions - employers must pay for PPE that is needed to comply with OSHA standards.
Types of PPE Protection
Determining the type of hazard is the first step in choosing what types of PPE are required to keep employees safe. OSHA recognizes six types of hazards that may require PPE:
Eye and Face
OSHA requires eye and face protection when employees are exposed to hazards such as flying particles, molten metal, liquid chemicals, acids or caustic liquids, chemical gases or vapors, potentially infected material, or potentially harmful light radiation. The following are common types of eye and face protection:
Protective eyeglasses

Goggles

Welding Shields

Laser Safety Goggles

Face Shields
Head
A head injury can be fatal or affect an employee for life. Employees must wear head protection – such as hard hats or helmets - if any of the following apply:
Objects could fall from above and strike an employee on the head

An employee could bump their head on fixed objects, such as exposed beams or pipes

There is any chance the employee could accidentally have head contact with any electrical hazards.
OSHA identifies three industrial classes of hard hats:
Class A hard hats provide impact and penetration resistance along with limited voltage protection (up to 2,200 volts).

Class B hard hats provide the highest level of protection against electrical hazards, with high-voltage shock and burn protection (up to 20,000 volts). They also offer protection from impact and penetration hazards by flying/falling objects.

Class C hard hats provide lightweight comfort and impact protection but offer no protection from electrical hazards.
Foot and Leg
Employees may require foot and leg protection if a hazard assessment reveals possible exposure to the following:
hot, corrosive, or poisonous materials

Falling or rolling objects

Electrical hazards
Examples of foot and leg PPE include the following:
Leggings

Metatarsal Guards

Toe Guards

Combination Foot and Shin Guards

Safety Shoes can include electrically conductive shoes, safety-toe shoes, non-slip shoes, etc.
Hand and Arm
If there is any possibility that an employee could experience injury to their hands and arms that cannot be eliminated through engineering and work practice controls, PPE – in the form of the correct type of gloves – should be worn.
To be effective, suitable gloves must be used based on the hazard. Types of gloves may include the following:
Leather

Aluminized

Aramid Fiber

Synthetic

Fabric

Coated Fabric

Butyl

Natural Rubber

Neoprene

Nitrile
Body
Hazards that can cause bodily injury should first be eliminated by engineering and work practice whenever possible. When those hazards - such as extreme temperatures, impact from tools, machinery, and materials, hazardous chemicals, or hot splashes from molten metals and other hot liquids – are present, appropriate protective clothing must be worn. Depending on the hazard, body protection may include lab coats, vests, aprons, coveralls, vests, full body suits, etc.
Hearing
Employees exposed to excessive noise that can affect their hearing should be issued hearing protection, such as single-use earplugs, pre-formed or molded earplugs, or earmuffs. When assessing hearing hazards, OSHA recommends considering the following factors:
The loudness of the noise as measured in decibels (dB).

The duration of each employee's exposure to the noise.

Whether employees move between work areas with different noise levels.

Whether noise is generated from one or multiple sources.
How to Save More on Workers Compensation Insurance
Creating a safe work environment is your first line of defense against high WC costs. Working with an experienced agent who understands the complexities of WC insurance – such as the independent agents at American Insuring Group - should be your second line of defense. Give us a call today at (800) 947-1270 or (610) 775-3848 or connect with us online.