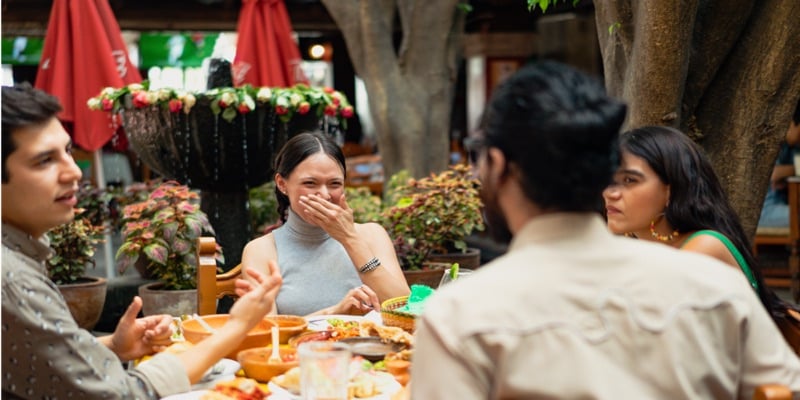 For many restaurants, creating an outdoor seating area became a necessity during the COVID restrictions. According to the National Restaurant Association, 48% of family dining, 56% of casual dining, and 62% of fine dining restaurants said: "they devoted more resources to developing or expanding outdoor dining areas."
Because dining alfresco can be a fun and desirable experience for many customers, creating a permanent outdoor area your customers enjoy and want to return to can help increase your profits. But don't forget about customer safety to avoid the risk of injuries, lawsuits, and higher Restaurant Insurance costs.
It takes some effort and unique considerations to create a safe and enjoyable outdoor seating area for your customers. A few picnic tables thrown under a tent on your parking lot may not be enough for long-term success. Here are some tips for creating a beautiful, comfortable, and safe seating area that will serve your restaurant and your customers for years to come.
Find the Right Space
Take time to look at your restaurant's exterior to determine the best spot for a permanent outdoor seating area. You may need to think outside of the box. For example, if you don't have a large property, is a roof deck feasible? Is there anything on your property that could make for a nice view - such as a stream, forest, an area overlooking the city – that you can take advantage of?
Also, consider the level of noise. While setting up an outdoor seating area that overlooks the town square is great for people watching, the sound of loud cars and motorcycles can make conversations challenging. Take time to sit in the area you're considering to determine if it's the best spot for your outdoor seating area.
And don't forget safety. Is the new space ADA compliant? Are there any tripping hazards you need to eliminate? Does the new space cause traffic flow problems that need to be addressed?
Keep Up-to-Date With Outdoor Dining Rules
Outdoor dining laws vary by state and local governments. Contact regulators to determine what is and isn't allowed and what permits or licenses you may need. Check into noise ordinances in your area. While many outdoor dining regulations were relaxed during COVID, that may not apply to the future, so check the laws and regulations in your area before starting any permanent renovations.
Keep Your Customers Comfortable
How can you keep your customers dry when it rains, warm when it's cool, and cool when the sun is beating down on them? Consider a permanent roof, retractable roof, or umbrellas to protect your customers from the elements. If you want to extend your outdoor dining into the cooler months, you may want to consider investing in outdoor heaters.
Make sure the furniture you choose is comfortable. For example, chairs with supportive backs and armrests can be more inviting and more comfortable. In addition, you may want to consider using cushions that can be removed and cleaned as needed.
Control Pests
Are there any bugs or animals that could ruin your customers' al fresco dining experience? If yes, what can you do to alleviate the nuisance? It can be hard to control nature, but keeping the area clean can help. Immediately clean up spills and remove uneaten food quickly. Sweep the floor frequently to eliminate crumbs, which can attract animals. Consider the use of bug zappers or an exterminator if bugs are a problem.
Create an Attractive Space
One of the greatest appeals of alfresco dining is the ambiance! Even if you don't have a babbling brook or a beautiful ocean at your disposal, you can create an attractive outdoor dining experience that will compel your customers back again and again. A garden or potted plants can provide beauty and even privacy where needed.
Just because you're outside doesn't mean you need to use vinyl tablecloths, paper plates and napkins, and plastic utensils. While that may be appropriate for a restaurant selling barbeque, it isn't for a more upscale restaurant. Plus, glasses, real silverware, and cloth napkins won't blow away as quickly.
And don't forget about lighting. The right lighting can draw people in, create an inviting atmosphere, and of course, allow people to move about safely. So you may want to consider a string of outdoor lights, candles, tiki torches, lamp posts, fire pits, and/or spotlights for plants, statues, or fountains.
Save on Restaurant Insurance to Protect Your Business, Customers, and Employees
Keeping your customers and employees safe should be your biggest priority and just makes good business sense. However, if an accident occurs, the right restaurant insurance can help protect your business, customers, and employees.
The independent agents at American Insuring Group specialize in restaurant insurance and can help ensure you have the right insurance at the lowest cost. So if you're considering adding a permanent outdoor seating area – or just want to save on your insurance costs - give us a call at (800) 947-1270 or (610) 775-3848, or connect with us online.