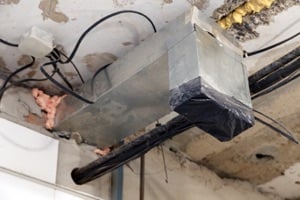 Open flames, cooking oils, cleaning chemicals, and paper products are the perfect ingredients for a fire, and all are found in most restaurants. So, it's no surprise that fire companies respond to more than 8,000 structure fires at restaurants and bars each year, according to the National Fire Protection Association.

A fire in your restaurant can cause lost revenues, injuries, death, higher restaurant insurance premiums, lawsuits, and even the end of your business, which is why it's essential that you and your staff understand fire risks and do everything possible to prevent fires.

The right insurance can help pay for damages caused by a fire, but preventing fires should always be your first line of defense.


The Main Fire Risks in Restaurants
Cooking
It's no surprise that cooking is the leading cause of restaurant fires, accounting for 64 percent of all restaurant fires according to the US Fire Administration (USFA). When flames get into the kitchen's ductwork, exhaust systems, vents, and fans – all of which are prone to grease buildup – fire can quickly spread.

Heating and Electrical Malfunction
The deadliest restaurant fire in US history was at the MGM Grand Hotel and Casino in Nevada in 1980. A result of an electrical ground fault, the fire killed 85 people. According to the USFA, seven percent of all restaurant fires are caused by heating and electrical malfunctions.

Unsafe wiring, switches, plugs, or sockets projecting heat onto a flammable or combustible material cause these fires. Often, outdated wiring is not able to handle the voltage used by today's appliances. Commercial kitchen equipment is certified by NSF International; however, most smaller equipment purchased at retail stores is not certified and can be a hazard when used in commercial kitchens.

Gas leaks and the resulting explosions are often the most devastating fires. Thankfully, this type of occurrence is uncommon but can occur when older or neglected equipment isn't able to support the flow of gas. Gas is released into the air and can be ignited by turning on an electrical device or lighting a match.

Other Fire Risks
Other causes of restaurant fires include unintentional, careless actions (4 percent), appliances (4 percent), other heat (3 percent), and several other categories, according to the USFA reports.


4 Restaurant Fire Prevention Tips

1 - Employee Training
Your workers should be trained in fire prevention methods and the importance of proper cleaning.
Workers should know not to use water to try to put out a grease fire because it can cause the grease to splatter and spread the fire.
Employees should be trained on how to use a fire extinguisher. The National Restaurant Association suggests using the acronym PAST – pull out the Pin, Aim at the base, make a Sweeping motion, and be Ten feet away.
Employees should know how to properly store flammable liquids – kept in original containers or puncture-resistant tightly sealed containers stored in well-ventilated areas.
2 - Regular Maintenance
Fire-suppression systems should be professionally inspected twice a year.
The pressure gauge on portable fire extinguishers should be checked monthly to be sure that the extinguisher is holding pressure and inspected and certified annually.
Electrical equipment should have regular maintenance and regularly checked for frayed cords and cracked or broken switch plates.
Exhaust systems should be inspected for grease buildup. In high-volume operations, the NFPA requires quarterly inspections and semi-annual inspections for moderate-volume operations.
3 - Installation of an Automatic Fire-Suppression System
Fire-suppression systems, which are built into stoves or oven hoods, have sensors that can detect a fire and automatically release a chemical to put out a fire and shut down the fuel or electric supply to cooking equipment. Installing a fire suppression system can sometimes lower your insurance premiums.
4 - Portable Fire Extinguishers
You should also keep portable fire extinguishers handy as a backup. Class K extinguishers are used for kitchen fires that involve grease, fats, and oils that burn at a high temperature. Class ABC extinguishers can be used on all other fires such as paper, wood, electrical, etc.
Benjamin Franklin said, "An ounce of prevention is worth a pound of cure." Understanding fire risks in your restaurant and taking steps to prevent them will help keep your employees, your customers, and your business safe.
Get the Right Insurance for Your Restaurant, Bar or Nightclub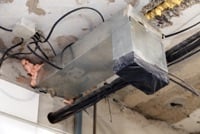 If these measures fail, having the right insurance can help repair the damage.
But don't overpay for restaurant insurance. Give the independent agents at American Insuring Group a call at (800) 947-1270 or (610) 775-3848 or contact us online. We'll search competing insurance companies to find affordable restaurant insurance that will properly protect your business.
Don't delay – call the experts at American Insuring Group today!