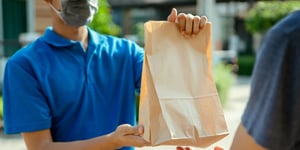 Third-party food delivery got a serious boost when Pennsylvania Governor Tom Wolf ordered all restaurants and bars to close their dine-in facilities to help stop the spread of COVID-19, while still permitting carry-out, delivery, and drive-through food and beverage service. Many restaurants began offering food delivery through apps such as Grubhub and UberEats.
It's crucial that restaurants understand potential liability and how Restaurant Insurance can help.
At the end of January 2020 - before the ordered shutdown - Upserve reported that 31% of people in a survey said they use a third-party delivery service at least twice a week. Imagine how that number has skyrocketed in just a few months!
The use of third-party delivery services has allowed many restaurants to continue serving food without investing in a driver or other infrastructure while their dining rooms remain closed. On the other hand, it has also opened restaurants up to potential new liability and legal ramifications.
Here are four questions to ask about potential liability when using a third-party food delivery app.
Who is Liable if a Customer Gets Sick After Eating Your Food That is Delivered by a Third-Party?
It may be impossible to discover where things went wrong. The illness could have been caused by cross-contamination in your kitchen, or it could have been caused by the food sitting in a hot car too long.
Food delivery services do not fall under the Food and Drug Administration's jurisdiction, so you may find your restaurant being held liable regardless. Before deciding to partner with a third-party delivery app, ask them if their drivers are required to follow any food safety standards - such as hygiene or temperature control – and who will be held liable if there is an illness.
Who is Liable for Issuing Refunds or Other Compensation if There is a Problem With the Food?
Beyond food contamination and illness, many smaller things can go wrong when you hand over your carefully prepared food to a complete stranger. Food can go cold. A pizza could get flipped over in the box, leaving all the cheese stuck to the lid.
You have no control over what happens to the food once it leaves your restaurant; however, it's still your restaurant's reputation on the line if your customers are disappointed with the quality of the food. Make sure that you provide the right packaging for the food on your menu and perhaps limit the delivery distance.
Who is Liable if the Delivery Person is in an Automobile Accident While Delivering Your Food?
The food delivery app probably requires that its drivers all have automobile insurance, but don't assume they do. Ask what insurance policies they require their drivers to have and how they enforce and monitor the requirement.
A driver can present proof of insurance one day and lose it the next day for nonpayment. It may not be a bad idea for you to require proof of insurance from every driver each time they make a pickup at your restaurant.
Who is Liable if the Delivery Service is Not Sanctioned by Your Restaurant and Something Goes Wrong?
Some food delivery brands deliver food from restaurants without permission from the restaurant owners. So it's crucial that you clearly advertise which third-party delivery services you have partnered with and include a disclaimer about potential liability from unsanctioned services.
How Can I Protect My Restaurant From Liability Issues?
The best way to protect your restaurant from any liability issues is with the right insurance. Talk to an independent insurance agent who specializes in restaurant insurance – like the agents at American Insuring Group – to make sure you get the lowest price for that coverage. Give us a call today at (800) 947-1270 or (610) 775-3848 or connect with us online.