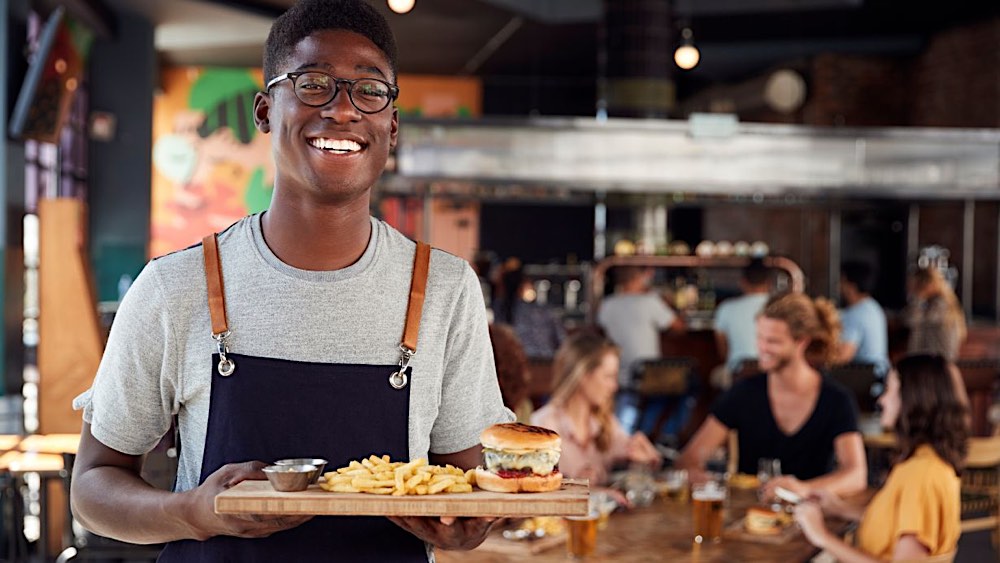 When discussing ways to save on Restaurant Insurance, we often focus on safety in the kitchen, but accidents can happen anywhere, including the dining room. This means that all staff members should be well-trained, and effective training includes more than just safety training. Good employees are one of a business's greatest assets and are crucial to the success of any restaurant. Labor Shortage and High Turnover
Unfortunately, the country – particularly the restaurant industry – faces a severe labor shortage. "Restaurants and diners alike are feeling the pinch from the industry's labor shortage," CNBC reports. "The industry is still down 750,000 jobs — roughly 6.1% of its workforce — from pre-pandemic levels as of May [2022]."
Retaining those employees is just as challenging. "Estimates say that at the start of 2019, employee turnover rates for the food service industry were as high as 75%, meaning restaurants can expect to lose three out of four employees over the course of a year," EHL Insights reports. "In the quick-service industry, this rate can be as high as 130-150%."
So it's no surprise that many restaurant owners think, "Why bother training staff? They're just going to leave anyway." This attitude can be short-sighted because EHL also reports the top reasons why employees leave:
They feel under-appreciated

They don't feel their work is meaningful

There's no room for growth

They disagree with the management style

They don't get along with their coworkers

They're not empowered
Experts report that training addresses many issues that cause employees to quit making your restaurant more appealing to recruits and reducing employee turnover.
Benefits of Training
Proper training provides many benefits:

Increased productivity and performance

Improved job skills

Lower employee turnover

Higher job satisfaction

A positive company culture

Improved customer service standards

Reduced accidents and injuries

Lower Restaurant Insurance costs
Developing Restaurant Staff Training
The first step to EFFECTIVE training is developing a comprehensive training plan on the basics that starts with the end in mind. SHRM states, "Effective training is training that improves performance, and improved performance helps achieve business objectives. Therefore, effective training requires knowing and understanding the business objectives."
The University of San Diego offers ten steps to creating an employee training plan:
Assess your needs and develop goals and success metrics.

Determine the type of employee training plan.

Keep adult learning principles in mind.

Develop learning objectives/outline.

Finalize your training plan.

Design and develop training materials.

Implement training.

Evaluate training.

Measure success.

Reevaluate as necessary.
Onboarding training provides the skills new employees need to perform at their best. Ongoing training keeps employees engaged. Basic training should be consistent, so everyone is on the same page, but job-specific training (bartender, waitress, cook, etc.) is also necessary. Cross-training also helps keep a restaurant running smoothly.
So, what should your training consist of? Here are some training topics to consider:
What is Expected of Them – dress, calling in sick, etc.

Menu

Customer Service

Soft Skills or Emotional Intelligence

Compliance and Safety

Technology
Everyone learns differently. "Understanding and adapting to the different learning styles is crucial for anyone involved in any form of instruction, whether that's teaching in a classroom, parenting, leading a Boy Scout troop or teaching Sunday School," Cornerstone University reports. "Visual, aural, verbal (reading/writing) and kinesthetic are the most common categories that people use to define learning styles." Using a variety of training methods can help everyone learn better. The following are some training methods to consider:
Video

Digital Platforms

Employee Handbook

Shadowing

Role Playing

Team-Building Exercises

Peer-to-Peer

Menu Tasting

Demonstrations


Save on Restaurant Insurance the Easy Way!
Another way to lower insurance costs is by calling American Insuring Group at (800) 947-1270 or (610) 775-3848 or connecting with us online. Our experienced agents help you choose the right insurance coverage for your needs. Plus, as independent agents, we will compare the cost of that coverage among competing restaurant insurance companies to ensure that you pay the lowest premium.
Call us today and start saving!