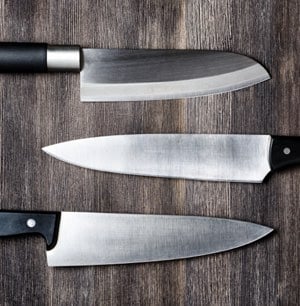 One of the best ways to reduce restaurant insurance costs is to improve workplace safety – especially in the kitchen.
Since cuts and lacerations are one of the most common injuries found in restaurant kitchens, it just makes sense to enforce knife-handling safety. It could take a considerable chunk out of your insurance costs and create a healthier and more productive work environment to boot!
Here are Six Knife-Handling Safety Tips:
1 - Always Use a Sharp Knife
Keeping your knives sharp is one of the easiest ways to make them safer. A dull knife forces you to apply more force, which is more likely to cause a slip and increase the risk of injury. Use a sharpening stone or knife sharpener to maintain the original sharpness of the blade.
Most knife blades are designed with a 20-degree angle on each side. If many of the ingredients you're cutting are harder, this is perfect, but if most of your ingredients are softer, you may want to sharpen your knife to a 15-degree angle on both sides.
2 - Use the Right Knife
Knives come in many different shapes, sizes, and styles. You have your chef's knife, your paring knife, your bread knife, your cleaver, etc. Each is made for a different type of task. When choosing the best knife for a job, consider the size of the blade and what you are cutting and the type of blade edge – serrated, etc. Here's an in-depth guide for choosing the best knife for the job.
And remember to treat your knives well. They are not made for opening cans or boxes; they are made to cut food. Using them for other tasks can quickly damage your blade making it dull and unsafe.
3 - Know How to Cut With a Knife
Always use a cutting board to protect your hands and your knives and to allow you to cut consistently. Knowing how to grip the knife and how to hold the food you're cutting is also important. There are two basic ways to hold a knife – the handle grip and the blade grip. The food you're cutting should be placed on a cutting board on a stable, flat surface. Protect your fingertips by curling them inward, using your knuckles to guide your knife.
4 - Be Alert
Commercial kitchens can be hectic places, but pay attention to what you're doing when you're holding a sharp knife. Even a moment's distraction can cause an accident and an injury.
5 - Store Knifes Correctly
Every knife should have a specific storage space – NOT in a drawer – where it is kept when not in use. A knife block or roll will not only help protect your employees but also keep knives easily accessible and protected, so they will last longer. Don't leave knives laying on the counter between uses. They can easily get knocked off and cause an injury.
6 - Keep Knives Clean
Do not leave your knife on a cutting board or in a sink full of soapy water. Immediately washing your knife and returning it to its designated storage space will help keep your employees safe and prevent contamination keeping your customers safe.
Safety Training Pays in More Ways Than One!
It's essential that restaurant employees are adequately trained on knife safety and that you make it clear to everyone that safety is a priority in your restaurant. So remember to follow these knife safety tips to protect your employees, reduce accidents, and lower your restaurant insurance costs.
Save On Restaurant Insurance - Contact Us Today!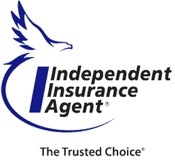 Another way to take a bite out of restaurant insurance costs is to work with an independent insurance agency like American Insuring Group.
Not only do we have agents who specialize in restaurant insurance who make sure that you get the right insurance for your individual needs, but we are also insurance brokers, so we compare costs among many competing insurance companies to find you the best price for that insurance!
High quality insurance protection for your restaurant at a great price - now that's a real win-win for your business! So give American Insuring Group a call at (610) 775-3848 or (800) 947-1270 to speak with one of our restaurant insurance specialists, or contact us online.