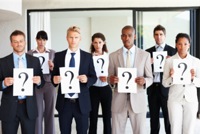 With the current sluggish economy, more and more companies are turning to business consultants to help cut spending, maximize productivity, and develop more cost-efficient practices. Business consulting services come in a variety of shapes – from sales and marketing consulting to technology consulting – and sizes - from working out of a home office to working in a large consulting agency.
Subjectivity, Risk and Professional Liability Insurance
If you're one of the estimated 400,000 consultants in the US, it doesn't matter what your specialty is, where you work, or your level of expertise - the advice you provide usually contains an element of subjectivity, which is open to allegations of negligent acts, errors, or omissions. In the event of a lawsuit, legal fees and damages paid – whether a consultant is at fault or not – can quickly add up, so it's important that you protect you and your business from potentially catastrophic litigation with Professional Liability Insurance (PLI), sometimes referred to as Professional Indemnity Insurance, which is a sub-category within Commercial Insurance.
What is Professional Liability Insurance?
PLI is a type of commercial insurance that provides protection for Error and Omission exposure, sometimes referred to as errors and omissions insurance. It protects you from negligence claims arising from an alleged act or failure to act that caused harm to another party. This type of claim is not covered by more general liability insurance policies.
Why Isn't General Liability Insurance Enough?
General liability insurance policies only cover bodily injury, property damage, or personal injury. Some forms of insurance cover employers, public or product liability. Professional Liability insurance covers legal claims that cause harm that isn't covered by these other general policies, such as negligence, misrepresentation, violation of good faith and fair dealing, and inaccurate advice.
Professional Liability Insurance and Larger Consulting Contracts
If you decide to work with a larger corporation, PLI may be required to secure a contract. By acquiring this type of coverage in advance may be viewed as being prepared and better qualified to operate in the big leagues where the more lucrative consulting engagements are typically found.
Learn More About Professional Liability Insurance
For more information about professional liability insurance and other forms of commercial insurance, contact American Insuring Group at (800) 947-1270 or (610)775-3848.