Is a Pet-Friendly Workplace Right for Your Business? Understand the Benefits, Risks, and Business Insurance Needs.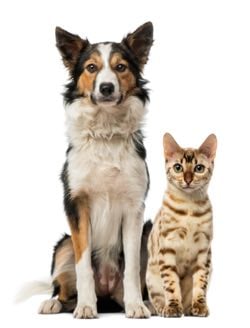 Thirty-nine percent of households have dogs, so it's no surprise that more companies – including Google, Etsy, and Build-A-Bear Workshop – are allowing employees to bring their dogs to work. After all, Congress has been dog friendly since the 19th century. And, according to a survey conducted by the American Pet Products Manufacturers, 17 percent of Americans work at pet-friendly companies. What are the benefits? What are the risks? Does your business insurance adequately cover the risks? You should know the answers to these questions before implementing a pet-friently workplace policy.
Pet-Friendly Workplace Benefits
Offering a "bring your pet to work" policy can definitely have its advantages. It has been shown to lower employees' stress levels and absenteeism; boost morale and create a more positive work environment; improve job satisfaction, which improves retention; encourage people to work longer hours; attract new employees by standing out among the competition; and offer opportunities for exercise and non-work-related interaction among employees. The Centers for Disease Control and Prevention cites dozens of animal experts who report that pets can decrease blood pressure and cholesterol levels as well as increase opportunities for exercise and socialization.
Pet-Friendly Workplace Risks
If you're considering opening the doggie door on your business, there are a few things you should consider.
If you lease your workspace, make sure the landlord allows pets.
If any part of your business involves the handling of food or beverages or offering personal care services, such as day care or elder care, check licensing bureau regulations.
An animal allergy may be considered a disability under the Americans with Disabilities Act (ADA) of 1990. If you ignore or don't make reasonable accommodations for an employee who is allergic to animals, you could open your business to potential ADA liability.
People who are afraid or uncomfortable around pets can also create possible ADA liability. A former mail room clerk from Foodarama Supermarkets in New Jersey brought an ADA claim in which she alleged that her former supervisor occasionally brought his house cats to the office, despite the fact that the employee had previously informed him of her condition as an ailurophobe (a person who is afraid cats). Although courts are reluctant to find liability under strict liability statutes or under ADA accommodation laws, an employer could still face the expense of defending such a suit if they allow pets in the office.

A pet can bite another employee, customer, or delivery person.
A pet can damage or destroy property, such as carpets, computers, and other office equipment and furniture, or even "eat your presentation."
Business Insurance and Other Ways to Keep Your Business Out of the Doghouse
Have open discussions with your employees about concerns, such as allergies, accidents, etc., and how you will accommodate them.

Create and enforce a comprehensive written pet policy.
Require that employees prove that their pets will respond to basic commands, such as "sit" and "stay."
Limit the number of pets allowed in the workplace at one time.
Enforce a zero tolerance for aggressive pets that growl, bark, chase, or bite.
Establish pet-free zones.
Require that pet owners show that vaccinations are up to date and that pets are licensed and free of parasites and insects.
Require proof, in writing, that pet owners have sufficient home owners' or renters' insurance to cover damage caused by their pet and carefully check exclusions. Some policies have a business-pursuit policy exception and some exclude certain breeds, such as Pit Bulls and Rottweilers.
Consider indemnification in case your business gets sued.
Ensure that your business insurance will cover any liability associated with pets in the office.
Contact Us for the Right Business Insurance Protection to Support a Pet-Friendly Workplace
A pet-friendly workplace isn't right for every business, but if you decide that it could be a good fit for your company, your first step should be contacting the independent insurance agents at American Insuring Group at (800) 947-1270 or (610) 775-3848. We offer business insurance protection from competing insurance providers. We'll help you find the right policy at the right price. Contact us today.