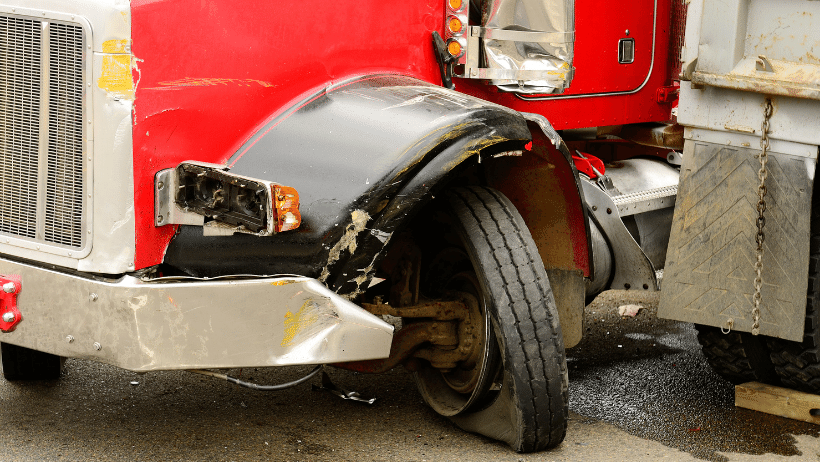 If you want to reduce Commercial Truck Insurance costs, lower the number of accidents. It's simple but not always easy. According to the National Safety Council (NSC), in 2019, 118,000 large trucks were involved in accidents that caused injuries. And often, due to their size and weight, accidents involving trucks are more serious. For example, in 2019, 5,005 trucks were involved in fatal accidents.
The good news is that many of these accidents are preventable. The first step to preventing accidents is identifying the most common causes of truck accidents.
According to the National Highway Traffic Safety Administration, driver error is the cause of 94% of vehicle accidents. Other causes include failure or degradation of the vehicle's components and the environment (slick roads, weather, etc.).
5 Common Causes of Accidents
Distracted Driver
The CDC reports, "Nine people in the United States are killed every day in crashes that are reported to involve a distracted driver." A distraction takes attention away from driving and takes your eyes off the road, takes your hand off the wheel, or takes your mind off driving. Unfortunately, drivers can be distracted by many things – changing the radio station, arguing with a passenger, or even reading billboards.
You can't eliminate all distractions, but you can eliminate the most common cause of driver distraction – electronic devices, specifically cell phones. According to the CDC, "At 55 miles per hour, sending or reading a text is like driving the length of a football field with your eyes closed."
As an owner or fleet manager, having and enforcing a distracted driving policy is crucial to minimizing the risk of distractions. If you are a driver, turn on the "Do Not Disturb" feature on and pull over to a safe place to use your cell phone.
Speeding
We get it… You have tight schedules to keep and face many things (traffic, road construction, etc.) that can mess with those schedules, but driver safety should always come before deadlines. The NSC reports, "Speeding was a factor in 29% of all traffic fatalities in 2020, killing 11,258, or an average of over 30 people per day." With the additional weight and size of a truck, speeding becomes even more dangerous because it takes trucks longer to stop, and when they do hit something can cause more damage.
Poor Driver Training
As we mentioned earlier, driver error is the cause of 94% of vehicle accidents, but you can minimize that risk by providing ongoing safety training to your drivers. The National Safety Council (NSC) reports that implementing a driver safety program will help keep drivers safer and potentially:
Decrease the risk of motor vehicle collisions and traffic violations
Minimize exposure to liability risks and legal costs
Reduce insurance premiums and workers' compensation claims
Lower vehicle repair bills and replacement expenses
Protect business operations and brand identity
Fatigue
You may be on the road for a while, not get enough sleep at night, or any number of other reasons that can cause fatigue. NHTSA estimates that in 2017, 91,000 police-reported crashes involved drowsy drivers. These crashes led to an estimated 50,000 people injured and nearly 800 deaths. Whenever possible, avoid this hazard by getting adequate sleep, checking any medication you take to see if any cause drowsiness, and avoiding driving during peak sleepiness periods (midnight to 6 am and late afternoon).
Weather
Weather is unpredictable and can change on a dime. Therefore, drivers must monitor the weather and prepare for potential hazards. If you find yourself on slick roads, slow down, keep more distance between you and the vehicle in front of you, keep your turn signals on longer, and turn on your headlights. Here are additional tips for dealing with dangerous weather.
How to Save on Commercial Truck Insurance Costs
Safer drivers mean fewer claims, which translates to lower Truck Insurance costs. Working with one of the independent agents at American Insuring Group also translates to lower Truck Insurance costs. As independent agents, we compare pricing and coverage with multiple insurance companies so you pay the lowest premiums for quality truck insurance protection.
✅ Start saving today by calling us at (800) 947-1270 or (610) 775-3848, or connect with us online.