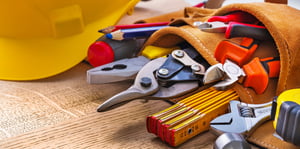 Can you imagine trying to complete any construction project without hand or power tools? No, neither can we. But we also can't ignore the fact that both hand and power tools present many hazards that can cause injuries, and injuries mean higher Contractors Insurance costs.
When you work with tools every day, it's easy to become complacent. As you repeatedly use certain tools, you almost go into auto mode, which can be extremely dangerous. According to the Bureau of Labor Statistics, power tool injuries result in approximately 400,000 emergency room visits each year in the U.S. Staying alert is crucial to minimizing the risk of injury.
10 Hand and Power Tool Safety Tips
Use the Right Tool – You know the correct tools to use for each task (at least you should), but sometimes a different tool is just handier. For example, using the screwdriver in your tool belt when you know the right tool for the job is the chisel you left in your truck. Or using the wrong sized bits, blades, etc., just because you don't have the right size on hand. Using the wrong tool can cause damage or injury.

Follow Manufacturers' Instructions for Use – Don't think you know how to use a tool better than the manufacturer. Manufacturers' instructions are written to help you avoid damage to your tools and injury to you and your coworkers.

Regularly Inspect Tools – Always inspect hand and power tools before and after use and properly repair or replace anything that is damaged before using again. Here's what to check:

The handle and body casings of the tool for cracks or other damage

Damaged switches or faulty trigger locks

Make sure auxiliary or double handles are securely installed

Inspect cords for defects, such as cracking, fraying, or other signs of wear

Inspect plugs for cracks or faulty prongs

Don't Modify Tools – Don't remove any safety guards or disable any safety devices on tools. Don't paint tools because this can hide cracks and chips.

Handle Tools With Care – The more carefully you handle your tools, the longer they'll last and the safer you and your coworkers will be. Don't "toss" tools into boxes or at coworkers. Don't use electrical cords to lift tools. When not in use, keep tools in a toolbox or your tool belt.

Unplug – Power tools should be unplugged when not in use, moving to a new location, replacing blades or bits, or making repairs.

Keep Workspace Clean – A cluttered space can lead to trips, falls, and injuries, especially when you're handling power or sharp tools, so keep your workspace clear of clutter. Also, be careful with power cords and air lines. Don't let them get tangled up, and watch for cords as you move about your workspace.

Make Space – Leave yourself enough room to safely operate hand and power tools without coming into contact with your coworkers or other objects.

Wear PPE

– Personal Protective Equipment (PPE) – such as safety goggles, earplugs, gloves, face masks, and hardhats – help protect you from injuries. PPE should fit properly and be well maintained.
Get Training – Understanding how to correctly use (and not use) tools is the best way to avoid injuries. Every employee using hand or power tools should be trained on the proper use of those tools. They should also be trained on general safety procedures and the appropriate use of PPE.
How to Save on Contractors Insurance
Creating a safer worksite to eliminate injuries is the first step to saving money on Contractors Insurance. The next step is to work with one of American Insuring Group's agents specializing in Contractors Insurance. Not only do they understand your unique insurance needs, but they will also check with multiple insurance companies to ensure you get the best rate on your insurance coverage. So give them a call at (800) 947-1270 or (610) 775-3848, or connect with them online.