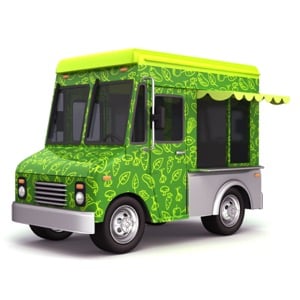 More people are getting into the food truck business than ever before. Food trucks offer a more affordable and flexible option for first-time entrepreneurs. Plus, many restaurateurs are adding food trucks to increase brand awareness and to cash in on the current growth of the food truck industry.
Food Truck Business Quadrupled in 5 Years
Food Trucks are the fastest growing channel in today's foodservice industry. The projected food truck revenue in 2017 is expected to be $2.7 billion – compared to $650 million just five years ago - according to Foodtruckoperator.com.
Food Truck Business Risks
Like any business, food trucks face potential risks. Here are 3 main risks to consider:
Vehicle Risk – Food trucks are exposed to many of the same physical risks a restaurant faces such as fire, flood, and general wear and tear with the addition of automobile accidents.


Operator Risk – The people operating the vehicle are subject to many of the same risks a restaurant faces such as falls, cuts, and burns.


Liability Risks – Customers can suffer an injury such as slips or falls along with food-related illnesses. Plus, food trucks have the added liability that sometimes occurs with automobile accidents.
How to Protect Your Food Truck Business
It is your responsibility to protect your business, employees, and customers by managing these risks. There are steps you can take to prevent some them such as thoroughly screening anyone who will be driving your vehicle, following food safety guidelines, and being aware of any possible hazards both in and around your truck. Unfortunately, there will always be certain risks you don't anticipate or can't control. One lawsuit or one accident that you aren't prepared for can mean the end of your business and all the hard work and financial resources you've put into it.
Gain Additional Protection with Food Truck Insurance
That's where food truck insurance - which addresses risks related to most businesses and risks unique to food trucks – can help. Also, most landlords, event organizers, and venue owners will require you to have certain types of insurance. For example, most will require at least $1 million in general liability insurance. They don't want to be held responsible for damage to your vehicle or injury to your customers.
7 types of insurance you may want to consider for your food truck business:
General liability

helps cover legal expenses, fines, and penalties if someone sues you.


Workers compensation (WC) insurance is required by many states. Within Pennsylvania, WC is mandatory for all employers with one or more employees (with a few exceptions). But with a food truck, you may find yourself traveling to other states. The National Federation of Independent Business offers a state-by-state comparison of workers' compensation requirements.



Property damage insurance

protects your property from damage caused by collision, theft, fire, vandalism, and other damage while your vehicle is parked. Property is divided into two separate categories: your food truck with any attached equipment and the contents of your vehicle.



Auto liability insurance

covers you for injury or property damage to others if there is an accident while you are driving the vehicle.



Food spoilage

coverage protects you from the costs associated with the loss of food and beverages due to spoilage. Food can quickly spoil with a prolonged power outage or an equipment breakdown, and you certainly don't want to serve your customers spoiled food.



Food contamination

coverage may help recover certain expenses if the health board shuts down your food truck after a food-borne illness outbreak. Contamination can be caused by mishandled or improperly stored food, employees may unknowingly transmit a virus or bacteria to the food, or the food may even be contaminated when you receive it.



Umbrella insurance

, which goes above and beyond your general liability and auto liability limits, may be required for large contracts.
Getting the Right Insurance for Your Food Truck Business

It may sound complicated and perhaps a bit overwhelming, but the independent agents at American Insuring Group can walk you through your options and help you determine the best food truck insurance for your operation. Contact us online or give us a call at (800) 947-1270 or (610) 775-3848.
We'll compare competing insurance providers to determine those that offer the best protection at the best price to meet your needs. Contact us today to get protected and to start saving on food truck insurance!