The storm season is here, and it pays to be prepared with the right homeowners insurance policy. Homeowners insurance is designed to protect you from severe financial loss when your house is damaged. Major home damage in Reading PA, Berks County, Lancaster, Allentown, Philadelphia and other parts of the eastern U.S. often occurs due to flooding. Fortunately, today's technologies can restore your home to pre-flooding condition, especially if you act quickly when water damage occurs.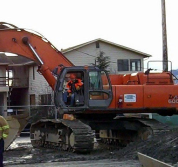 Do you know what to do or who to call when major storm damage occurs? Be sure to contact your homeowners insurance agent as soon as possible, and to take plenty of photos of the damage. Remember to watch for fallen power lines and standing water that may be electrically charged. Plumbing, roofing, and electrical systems and appliances should all be checked by a qualified professional. For more information, request our free report.
Get Your Valuable Free Report: What to Do After the Storm
In addition to providing helpful details on what to check and who to call, your free homeowner's report will explain:
2 things you can do to speed your insurance claims process
How to protect yourself against contractor scams after the storm
The key plumbing, roofing, and electrical items to check for when assessing damage
To receive your free report, courtesy of PuroClean, click here.
American Insuring Group is proud to offer you the guaranteed lowest prices on high-quality, affordable homeowner's insurance from a multitude of competing home insurance carriers. With over 25 competing brands of insurance, we guarantee the best deal on homeowners insurance, as well as insurance for your car, life, health, or business. Contact us today for a free, no-obligation quote, or click for an > instant homeowner's insurance quote.