Warmer weather has arrived and with it come thoughts of vacations spent lying on the beach, hiking through the mountains, or visiting friends and relatives. No matter what you decide to do with your time off, it is important that homeowners make provisions to insure the security of their homes before they go.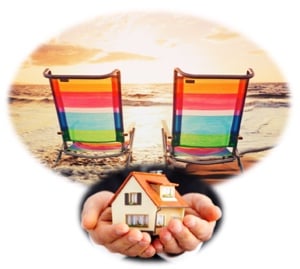 Why Home Security Should be a Priority
According to FBI estimates, there are more than two million burglaries each year in the United States, and 65% of these are residential break-ins. It is no coincidence that these crimes occur at a 10% higher rate in July and August – the two most popular vacation months.
Having a fun-filled vacation can provide joyful memories for a lifetime, yet a disastrous homecoming can just as easily taint them.
Prepare for your vacation by taking a few home security precautions to insure that you are not added to these statistics.
Steps Homeowners Can Take for Increased Protection While Away
Homeowners insurance is your failsafe, but it's much better to avoid a breakin altogether. When faced with the subject of home security, many homeowners immediately think of a monitored home security system. With these systems, motion detectors and sensors send an alarm to a monitoring center during an intrusion. The center then reports the break-in to police. This is an effective method of deterring a home invasion while you are away. Keep in mind that installing the system can be expensive, and there is usually an ongoing monthly fee. Such systems can also lower your homeowners insurance premiums.
While it isn't the most common method of securing your property, hiring or negotiating with a house sitter is another option.
There are other free or low-cost steps homeowners can take:
• Don't let the world know that you're away from home.
• Do not "check in" on social media from your vacation site or update your status before boarding a plane.
• If you post pictures during your vacation, your friends will see all the fun that you're having and thieves will see a perfect opportunity. Post them after you arrive home.
• Never change your voicemail message to inform callers that you can't take their call because you're on vacation.
Make your house look inhabited:
• Don't let mail and newspapers pile up. Stop delivery or ask a trusted neighbor or friend to retrieve them every day and, while there, to check your house for signs of unusual activity.
• If you are going to be gone for more than a week, ask a friend to mow your grass.
• Make sure to turn off your alarm clock. The incessant beeping may be heard outside your house and could tip off someone to your absence.
• Use timers to turn lights and devices on and off. It will make it look as if you are home.
Take some obvious measures inside your house:
• Shut and lock all windows on every floor.
• Use deadbolts on all doors.
• If the garage is attached to your house, be sure to lock the outer garage door and the door that leads to the garage from the house.
• Fortify a glass sliding door by placing a steel rod in the lower track.
• Keep all valuable items out of plain sight.
Provide security on the outside:
• Criminals love hiding places, so trim any shrubbery that obscures windows and doors.
• Trim any branches that are close to the house and could provide direct entrance to the upper floors.
• Lock a detached garage and all outbuildings like tool sheds and workshops.
• Put timers or motion sensor lights in the driveway or walkway. They can surprise and deter a potential burglar.
Get a Homeowners Insurance Checkup for Your Peace of Mind
Protecting your property and possessions in your absence is essential, and the time and money that is invested will pay dividends in the form of peace of mind during your vacation and a return to a secure home after it's over. Having the right homeowner's or renter's insurance is also important for your peace of mind because it provides important financial protection in the event of a breakin while you are away. Contact us or call us at (800) 947-1270 or (610) 775-3848. We're independent insurance agents who will help you find the best house insurance at the right price.