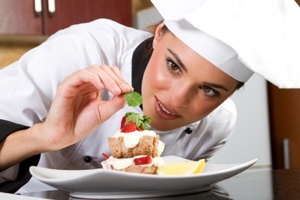 All businesses are at risk for some type of damage, liability or loss, and need to ensure that they have the right commercial insurance to protect themselves, their business, and their employees from those risks.
Food service businesses – whether it's a café, diner, or gourmet restaurant - are no different and actually present some unique risks that need to be addressed.
Often the most cost-effective way to protect a restaurant is with a Business Owners Policy (BOP) that is tailored specifically to the needs of the restaurant business. That's what we mean by restaurant insurance.
Here are the Three Main Categories of Business Insurance for Your Restaurant
Restaurant Insurance Category #1: Property Insurance
Property insurance protects… well… property. That could include the actual building that your restaurant is located in if you own the property and all of the property within the building (whether you rent or own), such as equipment, dishes, food, and furniture. In the event of a fire, flood or other damaging event, property insurance allows you to replace those items so that you can resume business.
Many BOPs also include Business Interruption Insurance and Business Income Insurance. Interruption insurance helps you recover as quickly as possible by paying extra expenses caused by the interruption in your business —such as rent for temporary quarters. Business Income Insurance helps pay for ongoing expenses – such as rent - incurred while your business is closed.
As a food service business, you carry the added risk that your food could cause food poisoning or transmit a communicable disease, which makes a Food Contamination Endorsement Insurance a good idea for many restaurant owners. Typically, this endorsement helps pay for lost income if the business is shut down by a government authority, clean up expenses, food replacement, and additional advertising expenses required to restore your restaurant's reputation.
Other property insurance coverages you may want to consider as a food service business owner include…
Spoilage
Mechanical Breakdown
Outdoor Signs
Burglary and Robbery
Employee Dishonesty
Restaurant Insurance Category #2: Business Liability Insurance
Commercial liability insurance helps protect your business against lawsuits – from someone breaking their leg walking up your steps to claims of libel or slander. We live in a very litigious society, and you never know what your restaurant could be liable for. Remember the woman who sued and won the lawsuit against McDonalds because she spilled hot coffee on herself? Even if you win the lawsuit, the cost of defending yourself can seriously affect your bottom line. Liability insurance helps protect you and your business.
If your restaurant has a liquor license, you should also include a Liquor Liability Endorsement to help cover the cost of your defense in the event of a lawsuit and any damages awarded if you are found liable.
Restaurant Insurance Category #3: Workers Compensation Insurance
Worker's Compensation Insurance is a type of small business insurance that is mandatory in most states and covers employees for work-related injuries. A typical "workers comp" insurance policy pays an employee lost wages and medical expenses incurred due to a work-related accident, while also protecting the employer against accident-related lawsuits.
Need Better Restaurant Insurance?
We Can Help!

Whether you own a sandwich shop or an elegant restaurant, the independent insurance agents at American Insuring Group can help find the right insurance at the right price for your food service business. Because we're independent, we're free to shop around for the best deal among many competing providers of restaurant insurance based on your particular needs.
So give us a call at (800) 947-1270 or (610) 775-3848, or click here to Contact Us today.