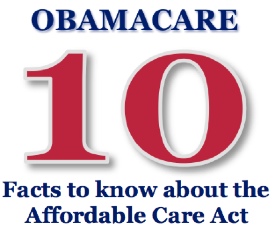 There is a lot of uncertainty these days regarding what is required under the Affordable Care Act, also known as ObamaCare. Businesses and individuals alike are concerned they may be penalized or miss out on important information needed to keep their health insurance in tact and affordable.
With that in mind, here are 10 things you should know:
As of January 1st 2014, every person must be insured under a Qualified Health Insurance Plan.

If Employer Coverage is not offered, it is the responsibility of the Individual to purchase insurance independent of their Employer.

If a person is not insured in 2014, they will be faced with an Individual Tax penalty equal to $95/person or 1% of your taxable income…whichever is greater!

The Initial Open Enrollment period ends March 31st, 2014.

Health plans sold after January 1, 2014 must include a list of 10 Essential Health Benefits such as Maternity coverage, Mental Health coverage, Prescription coverage, Pediatric Dental coverage, etc.

Health Plans will fall into 4 Metal Levels (Platinum, Gold, Silver, Bronze) and also include a catastrophic coverage option for those under 30 or for those meeting specific hardship guidelines.

There is premium assistance for people making between 100-400% of the Federal Poverty Level.

In addition to premium assistance, there are cost sharing subsidies (reduction in deductibles and out-of-pocket expenses) for those between 100-250% of the Federal Poverty Level.

The only way to claim the Premium Subsidy (Advance Premium Tax Credit) and the Cost Sharing Subsidies is to apply with the Federally Facilitated Marketplace (FFM).

Because the FFM is temperamental, the best way to apply and evaluate your coverage options is to contact a CERTIFIED Licensed Producer for assistance.
Please note: There is not an increase in cost if you choose to use a Certified Licensed Producer.
Here is a handy chart to help you determine if you are eligible to receive a premium subsidy.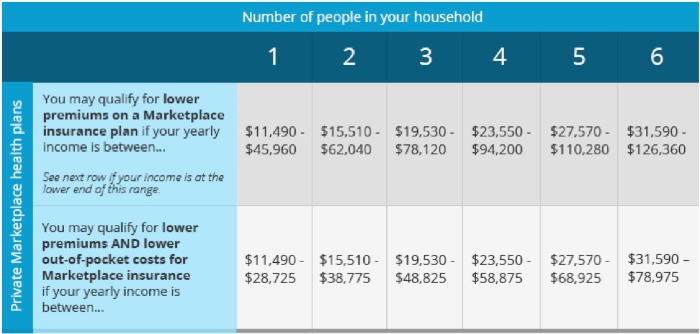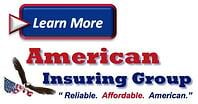 Looking for help in obtaining the right health insurance coverage for your employees or family?
Contact us today at American Insuring Group or request a free health insurance quote.