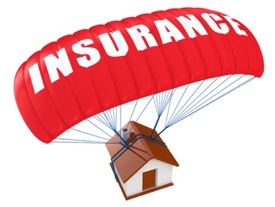 Like most homeowners, you've spent thousands (possibly hundreds of thousands) of dollars to purchase your home, most likely making it the largest purchase you will ever make. In order to protect your investment, you (hopefully) bought a homeowner's insurance policy that will provide funds to replace your house if it is destroyed or to repair it if it is damaged.
But are you aware of everything that is covered and not covered (exclusions)? Are you confident that the amount that your homeowners insurance will pay out in the event of a claim is sufficient to cover all damage or loss?
Few consumers actually know what their policies cover or the limits of that coverage. Avoid costly homeowners insurance surprises with these 6 tips:
#1. Know what your homeowners policy covers and
what is excluded
A policy generally will pay for damage to your property and your possessions in the event of fire, storms, theft or vandalism. It also provides liability coverage if someone gets hurt on your property. Homeowner's insurance also covers shelter costs for you and your family while your house is being repaired or rebuilt. It can protect belongings outside the home, too. For instance, items stolen from your car or lost on an airline would be replaced by your homeowner's coverage.
There are some typical exclusions:
Earth movements, like earthquakes and landslides
Power failure
War
Faulty zoning
Poor workmanship
Flooding
Some water damage
#2. Take preventive measures to reduce your premiums
Installing a burglar alarm system could reduce your premiums by 15-20%. Even something as simple as a deadbolt installation could save you 5%. If you have a pool, surrounding it with a fence and using a pool cover can substantially reduce your liability risk. Remember, insurance companies establish your premium based on how much risk they anticipate. You will reduce your premium by reducing your liability risk with some preventive measures.
#3. If you have a homeowners insurance claim, file it promptly
Homeowner's policies might come with time limits for reporting a claim. Be sure to ask about time limits when buying your policy, and then abide by them. If you wait too long, you may not be eligible for benefits—especially if the problem becomes worse while you delay. For example, if you fail to submit a timely claim for water damage and it turns into a mold problem, your insurer could refuse to pay.
#4. Keep good records
Don't allow a valid insurance claim to be denied because your recordkeeping is shoddy. Writing everything down that occurs during a loss may feel like an inconvenience, but it will help to mitigate your losses with documentation. Receipts, appraisals, and contracts are a good starting point, but you should also write down any conversations, to whom you spoke, and when. Keep your documents in a safe place or save digital copies on a program like Dropbox.
#5. Understand how jewelry is covered under your insurance policy
Save yourself an expensive surprise by checking the limits that your homeowner's policy places on jewelry. Items like engagement and wedding rings will probably not be covered under the basic limits of your policy, and you could end up with a $3000 check from your insurer for a lost ring worth twice that amount. Best advice: Stop by a jeweler and get your pieces appraised. Then, talk to your insurer about purchasing a supplemental policy to cover your expensive items.
#6. Bundle your homeowners insurance policy with other policies
Another way to save money is to bundle your homeowners insurance with other policies that you already own. It makes financial sense to have your car and homeowners policies with the same company because they'll usually offer you some kind of discount. But don't go buying insurance because the agent says you'll save money on other policies. After all, if you're spending money on something that you don't need, what are you actually saving?
Get Ready to Save on the Best Homeowners Insurance!

Want to save on homeowners insurance? As independent agents, we're well qualified to find you the best homeowners insurance at the right price because we represent MANY competing insurance carriers.
Why settle for a single insurance brand when we can shop and compare for you? Contact American Insuring Group online or call us at (800) 947-1270 or (610) 775-3848. You'll be glad you did!