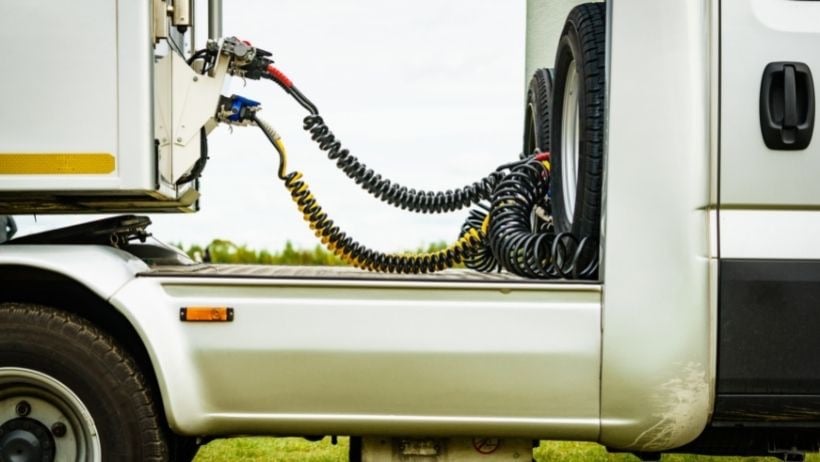 The best way to lower Commercial Truck Insurance costs is to minimize the risk of accidents, including brake failure. A U.S. Department of Transportation's Federal Motor Carrier Safety Administration study found that the most common vehicle equipment-related cause of truck crashes was brake failure, accounting for 29.4% of all truck crashes in the study.
Brake failure can result from defects, poor maintenance, or a driver's actions. For example, overusing brakes can affect brake performance. While not all brake failures are avoidable, many are, which makes a focus on brake safety key to minimizing the risk of accidents.
CVSA Brake Safety Week
The Commercial Vehicle Safety Alliance's (CVSA) Brake Safety Week - August 21-27 – focuses on brake safety. It is "an annual commercial motor vehicle brake-safety inspection, enforcement, and education initiative conducted by law enforcement jurisdictions in Canada, Mexico, and the U.S."
According to data from last year's Brake Safety Week, "brake systems and brake adjustment violations accounted for 38.9% of all vehicle out-of-service violations, the most of any category of vehicle violations."
The following are two of the goals of Brake Safety Week. Both can help minimize the risk of accidents and help lower Commercial Truck Insurance costs:
Encourage proactive vehicle maintenance in advance of the week.

Remind drivers and motor carriers about the importance of proper brake maintenance and vehicle pre-trip and post-trip inspections.
According to CVSA, if you are stopped during Brake Safety Week, inspectors will perform the following checks:
Look for missing, non-functioning, loose, contaminated or cracked parts on the brake system, non-manufactured holes (such as rust holes and holes created by rubbing or friction), and broken springs in the spring brake housing section of the parking brake.

Listen for audible air leaks around brake components and lines, and ensure the air system maintains air pressure between 90-100 psi (620-690 kPa).

Check for S-cam flip-over and measure pushrod travel.

Check that slack adjusters are the same length (from the center of the S-cam to the center of the clevis pin) and the air chambers on each axle are the same size.

Inspect required brake-system warning devices, such as ABS malfunction lamp(s) and low air-pressure warning devices.

Ensure the breakaway system is operable on the trailer, and inspect the tractor protection system, including the bleed-back system on the trailer.

Capture and provide data on brake hose/tubing chafing violations – the focus of this year's Brake Safety Week.
Brake Safety Tips for Owners/Fleet Managers:
Ensure drivers receive appropriate safety training

Develop a culture of safety

Take time to spec the best brakes for your vehicle and drivers' needs

Develop inspection checklists

Conduct routine daily, weekly, and monthly inspections

Perform regular maintenance on all vehicles

Customize maintenance to brake type – hydraulic, air, or exhaust.

Properly grease components

Monitor mileage on your brake systems

Replace brake shoes and other parts regularly

Use Telematics Data to detect hard braking, speeding, and other hazardous driving behaviors.
Brake Safety Tips for Drivers:
Perform pre- and post-trip inspections

Watch air pressure levels

Monitor your driving to ensure you are driving at safe speeds and maintaining safe following distances.
Lower Your Commercial Truck Insurance Costs
In addition to ensuring safer vehicles and drivers to minimize the risk of accidents, another way to lower Commercial Truck Insurance costs is to work with one of the experienced independent insurance agents at American Insuring Group.
Not only do we specialize in commercial truck insurance to ensure you have the proper coverage, but as independent agents, we also check with multiple insurance companies to ensure you pay the lowest premium for reliable coverage.
Call us today at (800) 947-1270 or (610) 775-3848, or connect with us online.