Workers Compensation Insurance - A Potential Minefield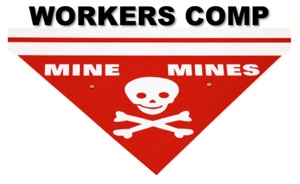 Purchasing workers compensation insurance can be a potential minefield for some businesses, who often don't know where to start and can feel like they're going in blind without a workers comp specialist to guide them along the way. It can seem like a daunting, upward struggle, especially since some insurance companies and agents won't even consider writing workers compensation insurance – and they have their reasons - but with the right insurance broker, applicants can get through the process scratch-free.
Choosing the Right Insurance Broker
It's also important to note that purchasing workers compensation insurance from a business insurance agency with several markets available, is the best way forward for business owners looking for this type of insurance. At American Insuring Group LTD, we represent a number of A rated insurance companies that specialize in Workers Compensation insurance.
Never Let Your Workers Compensation Insurance Lapse
The most important thing for business owners to remember is to never let their workers compensation insurance lapse, as that could lead to disastrous results. Although financial issues may seem dire, it's likely clients will pay the price if they let their workers comp lapse, in the form of considerably higher premiums on re-application. The other obvious advice is to always pay premiums on time, as late payments could cause standard carriers to write off a client with a non-renewal notice – almost as bad as a lapse in coverage.
Re-application
If workers compensation insurance is allowed to expire and business owners go through the re-application process, they should be aware it's not going to be easy – they'll likely be bombarded with seemingly endless documentation in order to explain the expiration in the first place. Anyone finding themselves in this situation would be wise to save their sanity and consult an insurance broker or expert to help get them through the paper trial and advise them on the situation.
Claims can also be an issue. If a business has filed numerous claims with an insurance broker, then they are likely to get issued with higher premiums; that's just the way insurance, as a whole, works.
Conclusion
When applying (or re-applying) for workers compensation insurance, business owners should work closely with an insurance broker. Ask questions, and be sure to find a broker who instils confidence. One last thing to bear in mind is the fact that all workers comp quotes are custom, with no 'big rate books' like the ones life insurance agents are familiar with.
Get Help with Workers Comp Insurance
Have additional questions about workers compensation insurance? Contact us, or request a free, no-obligation workers compensation insurance quote. We'll compare policies and prices from competing carriers to make sure you get the right coverage at the right price.