Yes, Workers Compensation Insurance Can be Costly, but Don't Cheat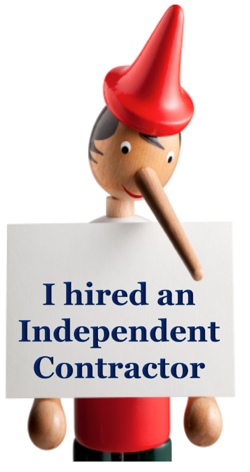 Providing workers compensation insurance for employees can be a significant expense, especially in industries prone to serious injuries, such as those requiring heavy or potentially dangerous machinery. While some employers may be tempted to misclassify workers as independent contractors rather than as employees in order to avoid worker's comp insurance and other costs, the penalties for misclassifying employees as independent contractors can be severe.
IRS Guidelines for Determining Independent Contractor Status
You are not an independent contractor if you perform services that can be controlled by an employer (what will be done and how it will be done). This applies even if you are given freedom of action. What matters is that the employer has the legal right to control the details of how the services are performed.
Consequences of Treating an Employee as an Independent Contractor
If you classify an employee as an independent contractor, whether to avoid workers compensation costs or purely by accident, and you have no reasonable basis for doing so, you may be held liable for employment taxes for that worker as well as incur severe penalties. See the IRS guidelines for determining employee vs. independent contractor status for more information.
Some Common Sense Guidelines for Determining Independent Contractor Status
While the IRS provides detailed guidelines for determining independent contractor status, it may be helpful to consider how one state simplified the criteria. New York State noted these requirements to be eligible for independent contractor status:
Advertising
Has his/her own advertising (business cards, commercials, phone book listing, etc.)
Authority
Performs work via his own contract, permit, or authority
Control
Controls the manner and time for work performed
Different Work and Customers
Performs work that differs from the primary work of the hiring business, and performs work for other businesses
EIN or Business Tax Return
Has a Federal Employer Identification Number (EIN) from the Federal IRS or has filed federal business or self-employment income tax returns for work or services performed in the prior calendar year
Equipment
Provides all equipment and materials needed to perform services under the contract
Liability Insurance
Has liability insurance (and if appropriate, has worker's comp and disability insurance policies) under its own business name and Federal EIN
Obligations
Has recurring business liabilities and obligations
Profit & Loss
Operates under a specific contract, is responsible for satisfactory performance of work, is subject to profit or loss in performing the specific work under such contract, and is in a position to succeed or fail if the business's expenses exceed income
Separate
Maintains a separate business establishment
Protecting Your Business from Workers Compensation Insurance Penalties
The above information is intended to be used only as an overview regarding independent contractor status. If you are in doubt as to the status of an independent contractor, seek professional advice from a local tax attorney, or get an opinion from the IRS by filling out form SS-8. The stakes for misclassification can be high, and disputes over worker status can be both expensive and disruptive to your business, sometimes resulting in crippling retroactive penalties.
Get the Right Workers Compensation Insurance Coverage for Your Business
If you would like help in acquiring affordable workers compensation insurance for your business, please Contact Us. Our helpful and courteous team will help you obtain quality insurance coverage at an affordable price. To learn more about workers compensation insurance, please click below.