Have you recently started a new business, or perhaps suddenly come to the realization that your personal vehicle insurance may not fully protect you when using your car, van, or truck for business purposes?
Commercial Vehicle Insurance Coverage Differs by Company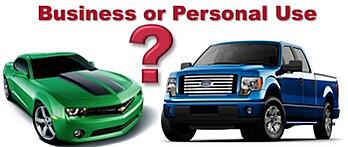 Although each insurance company has different guidelines for determining to what extent your personal vehicle may be insured when used for commercial purposes, it is nonetheless risky to assume your personal vehicle will be properly covered, if it is covered at all. Rather than taking chances, consult an independent insurance agent to learn the details of your coverage, and to select the best insurance company and policy to meet your commercial insurance needs.
How to Know if Your Vehicle Use is Commercial or Personal
The most obvious indicator that you are using your vehicle for business purposes occurs when you are using your car, van, truck, or other vehicle to transport merchandise or people, or to perform services for a fee.
For example, if you are using your vehicle to:
Deliver flowers or restaurant food, such as pizza or other food items
Perform landscaping services, such as delivering workers and/or materials
Perform snow removal services
Tow a trailer used for business purposes
Travel to customers for sales calls or to perform consulting services
Who is Covered Under a Commercial Vehicle Insurance Policy?
Unlike a personal policy, commercial vehicle policies allow you to cover any of your employees when your vehicle is used for business purposes. If your vehicle is driven by employees, that's a sure sign that you need a commercial policy. Likewise, if your vehicle is owned under a corporate partnership, or used to haul heavy equipment, or to make deliveries requiring federal or state filings, then you definitely need commercial vehicle insurance protection.
Amount of Vehicle Insurance You Need for Business vs. Personal Use
Commercial vehicle insurance policies generally provide greater protection than personal policies, with higher liability limits. However, it's very important to make sure you are fully protected for both business and personal use if your vehicle is used for both.
Don't Take Chances!
By now we hope you are thoroughly convinced that it is not worth taking chances with your commercial vehicle insurance coverage. Whether you hail from a larger city like Philadelphia or Allentown, or smaller areas like Reading or Lancaster, you need the right insurance protection. Please don't take chances with your future.
To learn more about commercial insurance for your car, van, truck, or commercial fleet, click here. Or, contact us online. You may also reach us at (610) 775-3848. We're independent insurance agents who stand ready to help you find the insurance protection that's right for you, your budget, and your business.