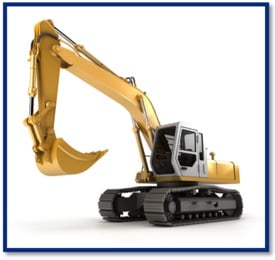 If your business requires the use of heavy equipment - such as tractors, backhoes, and forklifts – chances are a large percentage of your business assets are tied up in that equipment, making the protection of that equipment from damage or loss a high priority for you and your business.
According to the 2012 Equipment Theft Report from the National Insurance Crime Bureau (NCIB), the total value of stolen equipment in 2012 was close to $300 million. Those numbers don't include losses from business interruption, project-delay penalties, and wasted workforce time.
Here are some eye-opening statistics from the NCIB report:
In 2012, a total of 10,925 heavy equipment thefts were reported to law enforcement in the U.S.

Texas ranked number one in 2012 with 1,401 reported thefts. In second place was North Carolina with 1,037 thefts, followed by Florida in third with 890 thefts.

The three most stolen heavy equipment items in 2012 were mowers (riding or garden tractor: 5,363), Loaders (skid steer, wheeled: 1,943), and Tractors (wheeled or tracked: 1,459).

Heavy equipment manufactured by John Deere was the number one theft target in 2012 followed in order by Kubota Tractor Corp., Bobcat, Caterpillar and Toro.

Most often, equipment was stolen from a work site where there is usually less physical security.
A Poor Recovery Rate Means Construction Company Insurance for Heavy Equipment is Critical
Perhaps the most alarming statistic in the report was the recovery rate - "Of the 10,925 reported equipment thefts in 2012, [the National Crime Information Center] NCIC reported 2,204 recoveries." With a 20 percent recovery rate, the loss of stolen equipment is costly to insurance companies and equipment owners alike. In fact, theft is the most frequent cause of heavy equipment loss.
Theft Prevention Strategies
The good news is that in addition to protecting your equipment with the appropriate insurance, there are also measures you can take to significantly decrease the chance of a theft in the first place. Here are some theft prevention strategies from the NCIB.
Install hidden fuel shut-off systems.

Remove fuses and circuit breakers when equipment is unattended.

Render equipment immobile or difficult to move after hours or on weekends by clustering it in a "wagon circle." Place more easily transported items, such as generators and compressors, in the middle of the circle surrounded by larger pieces of equipment.

Maintain a photo archive and a specific list of the PIN and component part serial numbers of each piece of heavy equipment in a central location. Stamp or engrave equipment parts with identifying marks, numbers, or corporate logos.

Use hydro locks to fix articulated equipment in a curved position, preventing it from traveling in a straight line.

Use sleeve locks to fix backhoe pads in an extended position, keeping wheels off the ground.
Play it Smart: Insure Your Heavy Equipment

Since no amount of prevention will stop every thief, it's important that you contact an American Insuring Group agent at (800) 947-1270 or (610) 775-3848 to make sure that you have the right insurance for your expensive heavy equipment in the event of a theft.