A Leading Cause of Workplace Injury
OSHA reports, "Lifting heavy items is one of the leading causes of injury in the workplace." This is particularly true in the healthcare industry. Improper lifting can cause back sprains, muscle pulls, wrist injuries, elbow injuries, spinal injuries, etc.
Sharing the following smart lifting practices with your employees will not only help improve the health of your employees, but also help reduce the number and cost of lifting-related workers' compensation insurance claims.
There are several factors that contribute to lifting injuries:
Weight of Objects
Awkward Postures
High-Frequency and Long-Duration Lifting
Inadequate Handholds
Environmental Factors
Avoid Workers Comp Injuries - Follow These Safe Lifting Tips.
Here are some tips from OSHA to help your employees avoid injury from lifting:
Limit the weight you lift to no more than 50 pounds. When lifting heavier loads, use two or more people to lift the load.
Use ramps or lift gates to load items into trucks rather than lifting them by hand.
Use your legs instead of your back when lifting an item from a low location.
Avoid twisting, especially when bending forward while lifting. Turn by moving the feet rather than twisting the torso.
Keep your elbows close to your body and keep the load as close to your body as possible.
Break down loads into smaller units and carry one in each hand to equalize loads.
Rotate tasks so employees are not exposed to the same activity for too long.
Take regular breaks and split tasks into shorter segments.
Move materials from containers with poor or no handholds into containers with good handholds.
Wear proper personal protective equipment to avoid finger injuries and contact stress.
Adjust work schedules to minimize exposure to extreme temperatures.
Drink lots of water to avoid dehydration in excessive heat.
More Safe Lifting Tips
For more information about safe lifting techniques, go to https://www.osha.gov/SLTC/etools/electricalcontractors/materials/heavy.html#awkward
Be Prepared for the Unexepected with Quality Workers' Comp Insurance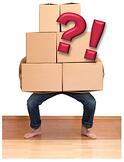 Following these tips will help ensure the safety of your employees and reduce workers' comp claims; however, injuries may still happen.
The right workers' compensation insurance will protect your business from these unforeseen incidents.
Contact American Insuring Group at (800) 947-1270 or (610) 775-3848. We can help with all of your business-related insurance needs, including workers' compensation.