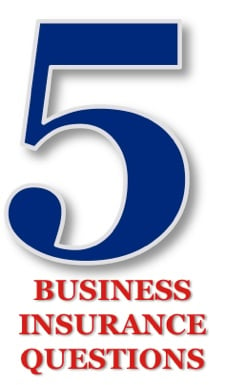 Smart business owners know that insurance is important to protect their business and assets. But, knowing which ones are right for your business can be a challenge. No one wants to be caught without the right business insurance if something happens, and no one wants to pay for insurance that isn't necessary. Here are six questions to ask to help determine what type of insurance you need to protect your business:
1.

Is it possible that someone could be injured or property damaged in the course of doing business with me?
If you answered yes, then you should consider Commercial Liability Insurance. Every business, even a home-based business, needs to look at liability insurance. This type of policy provides insurance protection for bodily injury or property damage claims that you become legally responsible to pay. Standard policies include premises and operations risks that are common to the business owner or contractor. These policies also include product liability insurance and completed operations liability coverage. Medical payment insurance protection is also standard with most policies.
2.

Do I own a building or any business equipment or property – such as office equipment, inventory, or tools – to run my business?
If you answered yes, then you should consider Commercial Property Insurance. If you own a building or have business property you should consider protecting those assets from fire, vandalism, theft, smoke damage, etc. with Commercial Property Insurance. Expanded coverage often includes water damage, sewer back-up, business interruption insurance, and more. A tailored property insurance policy usually pays on a replacement cost basis, which means there is no depreciation in the event of a loss.
3.

Could someone sue me based on the business that I conduct with them?
If you answered yes, then you should consider Professional Liability Insurance. This insurance, also known Professional Indemnity Insurance, is a type of commercial insurance that provides protection for an Error and Omission Insurance exposure. This type of insurance protection typically covers negligence claims arising from an alleged act or failure to act that caused harm to another. Doctors, lawyers, and most professionals have some type of Error & Omission Insurance (Professional Liability Insurance) exposure.
4.

Do I use any type of vehicle to run my business?
If you answered yes, then you should consider Commercial Vehicle Insurance. This is an insurance that covers owned and non-owned vehicles that employees, contractors, and business owners use to conduct business. The vehicle could be a truck, a van, a limo, or even a sedan, depending on what that vehicle is used for and what it is equipped with. Standard vehicle insurance coverage includes bodily injury and property damage liability, personal injury protection (including medical and lost wages expense), and uninsured and underinsured motorist coverage and physical damage to your vehicle including comprehensive and collision coverage.
5.

Do I have any employees working for me?
If you answered yes, then you should consider Worker's Compensation. Worker's Compensation Insurance is a type of small business insurance that is mandatory in most states and covers employees for work-related injuries. A typical "workers comp" insurance policy pays lost wages and medical expenses incurred due to a work-related accident, while also protecting the employer against accident-related lawsuits.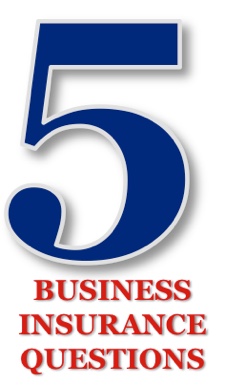 These five business insurance questions are a great starting point for any business owner, but you don't need to go it alone. The advice of a trusted and experienced independent insurance agent from American Insuring Group can help ensure that you obtain the right insurance at the right price for your business.
Don't take a chance - contact us at (800) 947-1270 or (610) 775-3848.