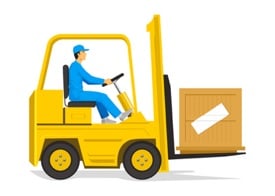 The Occupational Safety and Health Administration (OSHA) estimates that power industrial trucks (PIT), often called forklifts or lift trucks, cause approximately 85 fatal accidents each year, almost 35,000 accidents that result in a serious injury, and about 62,000 non-serious accidents. Accidents can be trajic for employees and can affect workers compensation insurance rates.
Drilling down to the details behind the statistics, 42% of PIT-related fatalities involve being crushed by a forklift that tipped over, while another 25% come from someone being crushed between the vehicle and a surface. Manufacturing (42%) and construction (24%) lead the fatality list. Sadly, most of these accidents could have been prevented, according to OSHA.
Here are twelve rules for the safe operation of a forklift that are easy to follow:
Qualified operators
This should go without saying, but anyone who uses a forklift must be trained and licensed to do so.
Appropriate clothing
Loose-fitting clothing can get caught in machinery. Operators should be wearing a hard hat, safety glasses, steel-tipped shoes, earplugs, and a high-visibility shirt or jacket.
Do an equipment check before driving
Before driving, the operator should do a routine check of the lift truck, paying particular attention to brakes, steering, controls, warning devices, and tires. Any problems must be reported immediately and the vehicle parked until repairs are completed.
Pay attention to your surroundings
Follow worksite rules and guidelines. Drive only in designated aisles near machinery, and observe all signs, particularly those that refer to load capacities and clearance limits.
Be careful near the edge of a loading dock or ramp; you don't want to go over the edge. And be aware of your load height and mast when entering or exiting a building.
Operate your lift at a safe speed
Obey posted speed limits. Make changes in direction slowly and gradually. And avoid tipping by slowing down before taking corners and turns.
Check your load
Don't lift anything that's not stable and secure
Check overhead before lifting or stacking your load
Tilt the forks back and keep them low to increase stability
Position the load so that it's balanced across the forks
Stack the load correctly on a skid or pallet
Secure your load with ropes or cords if required


Steer clear of hazards
Avoid uneven or loose ground and slippery conditions. Use your horn near a corner, at entryways, and to warn pedestrians. Always keep a safe distance from other trucks, and make sure you have plenty of space to stop safely.
Forklifts are not passenger vehicles
You're not doing anyone a favor by giving them a ride on your forks. It's dangerous.
If you must lift someone, attach a work platform and cage to your forks, and carefully follow the operating instructions.
Make sure you can see clearly
Operate the forklift in reverse if it improves your visibility. Make sure you can clearly see the racks on which you will position your load. If visibility is poor, either stop driving or get someone to act as a ground guide for you.
Stay away from the mast
Don't allow anyone to walk under your raised load. And keep your hands and feet clear of the mast's cross members to prevent a serious injury as you lower the mast.
Be careful on ramps
Drive up a ramp in forward come down in reverse. And never load and unload or make turns while you're on a ramp.
At the end of your shift
Park your lift truck in an authorized area. Lower the forks and apply the parking brake. Turn it off and remove the key. You should never leave the engine running on an unattended forklift.
Get Help in Selecting the Best Workers Comp Insurance for Your Business
To learn how to further protect your employees and your business with Workers' Comp Insurance, contact American Insuring Group online or call us at (800) 947-1270 or (610) 775-3848. As independent agents, we're free to shop among competing carriers to find the right insurance at the right price. Click or call today to get started.