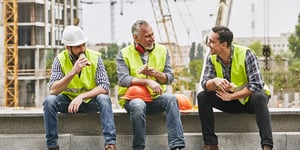 If you want to lower Contractors Insurance costs – from Commercial General Liability to Workers' Comp Insurance – create a safer worksite. Safety should be your number one priority simply because it's the right thing to do.
But if you need more incentive or ammunition to pitch a safety program to management, know that safety will also improve your bottom line. A safer work environment improves morale, keeps projects on schedule and under budget, and helps lower insurance costs.
Here are three tips for creating a safer worksite.
Assess the Job Site
Before you begin any new job, take time to assess the job site, identify potential hazards, and determine preventative measures to minimize injury. Start with OSHA's Fatal Four – dangers that are responsible for more than half of the construction worker's deaths. The fatal four are falls, object strikes, electrocutions, and caught-in/between. Look at a job site and determine how you can minimize those hazards.
Determine areas that should be blocked off while specific tasks are being performed. Install guardrails, catch platforms, nets, and other safety measures to avoid falls. Ensure that scaffolding is constructed correctly, and make sure you have appropriate PPE available for workers, such as safety harnesses, lifelines, and lanyards.
Consider Scheduling
Did you know that a study by the Associated General Contractors of America found that most construction site fatalities occur from 10 am to 3 pm, peaking at noon and that nearly 75% of deaths happened Monday through Thursday? Use that information and schedule safety meetings around noon early in the week. Also, ensure that you have strong safety measures in place for lunch breaks.
Another safety issue common to the construction industry is over-scheduling workers to meet deadlines. If workers are too physically or mentally exhausted, the best safety practices in the world won't eliminate injuries. According to OSHA, working 12 hours per day is associated with a 37% increased risk of injury.
A 2005 study of medical residents found that every extended shift scheduled in a month increased the risk of a motor vehicle crash on their commute home by 16.2 %. Motor vehicle accidents are the leading cause of work-related deaths in the U.S.
Fatigue was cited as a contributing factor in several major workplace disasters, including the nuclear accidents at Chernobyl and Three Mile Island, the Challenger space shuttle explosion, and BP's Deepwater Horizon oil refinery explosion.
Don't risk your workers' health and safety or the health of your company by over-working your employees. Ensure that all your employees and subcontractors take regular breaks and don't work too many hours.
Develop a Culture of Safety
If you want your workers to follow your company's safety procedures, you need to develop a culture of safety from top management on down. Your company should have a safety program that includes regular safety training, meetings, and updates (at least once a week).
Those meetings can include brief onsite recaps to formal OSHA training to fun team-building activities. And your safety program should be practiced and enforced by everyone. Make safety a priority at your company. Don't just give it lip service or focus on complying with the minimum OSHA standards.
Follow these three tips to let your employees know that their safety is your number one priority, and your business will experience better employee morale, lower employee turnover, lower insurance rates, and so much more.
Want to Save More on Contractor Insurance?
The American Insuring Group has experienced agents who specialize in Contractors Insurance. Plus, as independent agents, we compare the cost of your insurance with several companies to ensure that you get the best rate on the right coverage.
Give us a call today at (800) 947-1270 or (610) 775-3848 or connect with us online.